Written by John Tattersfield.
In Nov 2009, useful documents from Washington DC were kindly provided by Margaret Monthan and her daughter Holly Harrison. Margaret is the author of the Article in this series "THE TATTERSFIELD (MONTHAN) FAMILY OF ARIZONA, USA."
JOHN was a soldier in the American Civil War. He enlisted as a private in B Company, 1st Regiment Maryland Infantry on 4 January 1864 and was "mustered out" on 13 July 1865, after the war ended.
JOHN is an individual of whom the records have only shown us glimpses so far. It is not known where he came from or who his parents were.
There was a JOHN Tattersfield in the Dewsbury Workhouse, who was recorded in the Census of 1841, with no personal details, except that he was aged 13 (i.e. born about 1828), and born in the County of Yorkshire. He had no occupation.
There was a JOHN Tattersfield listed in Spilsby Convicted Prisoners, (see findmypast PCOM2, Lindsey Gaol, Lincolnshire: calendar of trials at quarter sessions held in Louth and Spilsby for the parts of Lindsey). He was committed on 25th January 1847, under the heading of Vagrants, for the offence of Rogue and Vagabond. He was sentenced to Three Cal Months H.L. by Magistrate Rev. G. Coltman. In view of the lack of detail, it is difficult to be certain which JOHN this refers to. However, given that it occurred soon before the conviction of JOHN in Nottingham, described in the next paragraph, it seems likely to have been the same JOHN.
A JOHN Tattersfield was tried at Nottinghamshire Epiphany Sessions in Shire Hall on 3rd January 1848. The Nottingham Review and General Advertiser for the Midland Counties, dated 7th January 1848, reported "HENRY HARRIS alias JAMES FRAZER, aged 28, tailor; JOHN BODIN, age 26, labourer; JOHN TATTERSFIELD, aged 22, tailor; and JOHN BROWN, aged 40, hatter, to feloniously stealing at Mansfield, on the 4th of November last, three books, of the goods and chattels of Daniel Woolhouse. Bodin to be transported for seven years, and the other prisoners, each to be imprisoned for one calendar month." Why the JOHN Tattersfield in Dewsbury Workhouse in the Censuses of 1841 and 1861 should have been in Mansfield, Nottinghamshire, is not known, but his age and occupation tie in well. It is a pity historical records can't be a bit clearer!
There was also a JOHN who enlisted in the 83rd Regiment of Foot of the British Army, in Leeds, Yorkshire, on 9 December 1848. He was born in Dewsbury, aged 20 (ie born about 1828), unmarried, and a tailor by trade. He enlisted for a "Bounty" of four pounds! He had not had previous military service and was not apprenticed. He signed the Attestation document with a cross, and was paid the sum of two shillings and six pence (12 1/2 p in today's money!)
Unfortunately no information is given in his military records as to the next of kin. He was 5 feet 6 inches tall, sallow complexion, hazel eyes, dark brown hair, and was "marked with small-pox." He was given the Regimental Register number 2877.
He served in the Army as a Private for 4 years 125 days, including 2 years 175 days in the "East Indes". The British Army Worldwide Index 1851 shows that in the first quarter of 1851, at the time when the England and Wales Census was held, JOHN was a Private in the 83rd regiment of Foot, in Karachi, now in Pakistan.
Although he had signed up for 10 years originally, his service was reviewed by a Regimental Board at Chatham Barracks, Kent on 22 March 1853, which proposed that he be discharged "in consequence of being found unfit for further service." He was admitted to Chatham Hospital, and, on 26 March, the Principal Medical Officer gave an opinion that JOHN was likely to be "permanently disqualified for military duty" in consequence of epilepsy.
He had been invalided from the East Indies on account of epilepsy, although his Attestations on joining up declared that he was free from "fits". According to his Medical Report after his return to England in April 1852, "He has had several severe Epileptic Fits, which were certified to as having been genuine attacks of the Disease. The origin of the complaint seems owing to Constitutional Infirmity, aggravated by residence in a hot climate and unfits him for Military Duty."
He was discharged at Chatham on 12 April 1853, aged 24, when "Pension Admission" began. He was given a good character and conduct reference, but was ruled to be medically unfit. His physical description of height, appearance and trade as a tailor were repeated, but interestingly no mention was made of smallpox marks. His place of birth was repeated as Dewsbury.
JOHN did not appear in the England Census of 1851, presumably being in the East Indies at the time.
In the England Census of 1861, JOHN was back in the same Dewsbury Union Workhouse, age 31, unmarried, and a Tailor in the Workhouse. He was said to have been born in Mirfield, which is immediately adjacent to Dewsbury in Yorkshire.
On 3rg August 1863, the S.S.Virginia, registered in Newcastle, sailed from Liverpool to New York. On the Crew List, which was dated 9th September, JOHN Tattersfield was entered, and made his mark. It stated he was 32 (ie born about 1831), and born in Dewsbury. He had previously been on the Harriet, registered in Belfast, which he had left in July 1863 at Liverpool. He joined the S.S. Virginia on 4th August, in Liverpool, as AB (able bodied) for a wage of four pounds per calendar month. Two pounds of his wage was advanced to him on joining the vessel. (No record has been seen of the Harriet crew list.)
The Official Log Book shows JOHN Tattersfield AB (able bodied?) in the Crew List. No personal details are given. The columns headed "Conduct" and "Seamanship" are left blank, and a note refers to page 12. The note shows that on Friday August 31st 1863, in New York, "Seaman JOHN Tattersfield deserted from the ship." It was signed by the Master, R.W.Grace, and the Chief Officer, James Alexander.
The log shows that many seamen deserted in New York. Obviously JOHN knew what he was doing!
No later record of JOHN has been found in England.
Then there was a JOHN TATTERSFIELD, who enlisted at Baltimore with 1st Infantry Regiment, Maryland on 4 Jan 1864. He was ages 33 (ie born about 1831), born in England, and a tailor by occupation. He was 5 feet 7 inches tall, with dark eyes, dark brown hair, and a dark complexion. Could this be the same JOHN who was in the Dewsbury Workhouse as a boy, and who joined the 83rd Regiment of Foot? The dates fit in well, and the similarities of occupation and physical description are striking. Epilepsy was a major factor in the lives of both soldiers called JOHN.
In fact, JOHN enlisted as a "Substitute Volunteer". The relevant document, signed by JOHN, states "I, John Tattersfield, born in England, aged thirty three years, and by occupation a Tailor, Do Hereby Acknowledge to have agreed with Abraham J. Elliott, Esq., of 10 Sub Dist 2nd Dist Maryland, to become his SUBSTITUTE in the Military Service, for a sufficient consideration paid and delivered to me, on the 16th day of January, 1864; and having thus agreed with said Abraham J. Elliott, I do Hereby Acknowledge to have enlisted this sixteenth day of January 1864, to serve as a Soldier in the Army of the United States of America, for the period of three years,….." This fact is also listed in "Historical Record of the First Regiment Maryland Infantry" compiled by Charles Camper and J.W. Kirkley; Gibson Brothers, Printers, 1871. Page 273, Appendix E, lists JOHN entering the Regiment as a Substitute. He was paid to serve in the place of another, a fairly common occurrence.
The 1st Maryland Infantry Regiment seems to have been organised in Baltimore in May 1861 and disbanded 2 July 1865. It fought on the Union side. The Regimental history records its involvement in seven battles between August 1861 and July 1863, six of them in Virginia. Then, in a hectic 11-month period from 4 May 1864 to 1 April 1865, it fought in no fewer than 28 battles, all in Virginia. Some are recorded as taking place on only one day, while others lasted days or even weeks. In the "Battle at Petersburg" alone, the Regiment was recorded as having fought on 28 days during the period 12 June 1864 to 31 March 1865. The battles included the Wilderness Campaign, which was the first time General Ulysses S. Grant used the strategy of "attrition" against a smaller force. The Union side lost 18,000 lives in that battle on May 5 and 6. This was followed by 14,000 lost at Spotsylvania Court House between May 8 and 18, and then 13,000 fell at Cold Harbour between June 3 and 12.
The lst Infantry Regiment, Maryland, lost eight officers and 110 enlisted soldiers from the fighting. To that can be added one officer and 148 enlisted men who died from disease or accident.
JOHN survived the dreadful slaughter, but his war service was not without incident.
Company Muster was held every two months to check the presence of the soldiers. JOHN was present at the Musters covering Jan/Feb, Mar/Apr and May/June 1864. There is then a Descriptive List of Deserters dated 31 July 1864, which reported that JOHN deserted at Petersburg, Va, on 26 July. However, the Company Muster Roll at the end of August states "Erroneously marked deserted. Absent sick in Annapolis, Md. Stoped (sic) for Enfield Rifle and accoutrements $23.25. Due US for Haversack 33 cts. " Sadly there is no explanation as to how he came to lose his rifle.
The above Company Roll for July and August 1864 states that JOHN was absent. A separate Memorandum from Prisoner of War Records shows that Private JOHN TATTERSFIELD, Company B, Regt 1, State Md. was captured at Petersburg Va on 25 July 1864, and confined at Richmond Va from the same date. The same document states he was paroled at Aiken's Landing , Virginia, on 22 Aug, 1864. He reported at Camp Parole, near Annapolis, Maryland, on 25 Aug. Aiken's Landing was a site used for the exchange of Union and Confederate prisoners. Camp Parole accepted paroled Union prisoners until they were returned to their regiments, or sent home.
No information has been forthcoming about how JOHN was captured, the conditions of his imprisonment, whether he was wounded, and what the terms of his Parole were.
He was admitted to the Camp Parole Hospital on 16 Sept 1864, it being noted that he was a "Paroled Man". This was recorded in the Detachment Muster Roll. The Company Muster Roll for Sept and Oct still recorded that he was "Absent sick at Annapolis".
JOHN was "furloughed" for 5 days from 12 Oct 1864. In the Nov and Dec 1864 Company Muster Roll, he was once again recorded as present. It was still on record that he would have stoppages of $23.25 for the loss of his gun and accoutrements, and 33 cts for his Haversack! This seems to have been more important than that he had been taken prisoner!
In the Jan and Feb 1865 Company Muster Roll he had incurred another bill for $2.30, relating, apparently, to a tent.
Then came a Charge and Specification against JOHN for being absent without leave from 8 April 1865 to the evening of 23rd April "when he again joined his Company". The Company Muster for Mar and Apr 1865 records him as absent "in Arrest". It is not known whether JOHN was found guilty and punished. It is tempting to think he might have been in hospital again! Or, perhaps, JOHN disappeared during the turmoil following the 1st Maryland's pursuit of Lee's army, that culminated in General Lee's surrender to General Grant at Appomattox Court House on 9 April 1855.
JOHN's army career in America is succinctly summed up on a single page:- " John Tattersfield pt, Co B, 1 Reg't Maryland Infantry, appears on Returns as follows–Feb 1864 Gain Feb 12, 64 Culpepper, Vg. recruit rec'd from depot July 1864. Loss July 26, 64, Petersburg Va. Deserted. Sept to Nov 1864 absent sick. Dec 1864 Returned from missing in action near Petersburg Va Dec 21, 64. Apl 1865 Absent under arrest. May 1865 absent sick in USA Gen Hosp. June 1865 absent sick."
The Company Muster-out Roll was at Arlington Heights, Va, on 2 July 1865. JOHN was recorded as being 32, last paid on 31 Dec 1864, had been paid no Bounty, was absent sick, and owed – you've guessed it- $23.25.
The Individual Muster-out Roll took place at Washington DC on 13 July 1865, and JOHN ceased to be a soldier. He was now said to be 34. He was owed $14.63 in back pay, but again there was reference to the small matter of "Stoppage for Gun and Equipments". JOHN was mustered out in compliance with G.O.77 A.G.O. April 28/65.
On 23 Jan 1866 a JOHN Tattersfield enlisted at United States Naval Rendezvous at New York for a term of three years. He enlisted for "General Service", and his rating appears to have been "hands". He had no previous naval service, and was resident in the 8th District, New York. He was born in England, aged 29, and a carpenter. His eyes were hazel, hair and complexion both dark, and his height was 5′ – 6 1/2″. He had no permanent marks or scars.
His Application failed to mention his experience as a crew member on the S.S. Virginia, presumably to avoid detection of the fact that he had deserted in New York.
Was this the same JOHN? His age at 29 (ie born 1837) was too young, but he might have understated it. He was recorded as carpenter, not as a tailor. However, his height, and colouring of eyes, hair and complexion, match very closely.
His availability for the Navy, in Jan 1866, some six months after he left the Army, and the fact that there were no other obvious Johns born in England around 1837, strongly suggest he was the same JOHN.
There is some contradictory evidence as to what might have happened to John next. On 6th Oct 1869 Jno L. Tatterfield (sic) was in the Muster Roll of the Marine Corps, residing at Marine Barracks. No other details have been found. The date is outside his 3 year service with the United Stated Navy. Did he complete it and then apply join the Marine Corps? Might he have been transferred to the Marine Corps direct from the Navy?
In apparent contradiction to such theories, John Tatterfield was admitted, on 29 Aug 1869, to the Poor House, at Chester County, Pennsylvania. This was some 6 weeks before the date of his Muster in the Marine Corps. Hopefully more information will come to light.
There is then another yawning gap in the available records. JOHN cannot be found in the US Census of 1870. However, in the US Census of 1880, JOHN TATTERSFIELD was recorded as being in the National Military Hospital, Montgomery County, Ohio. He was a soldier, aged 50 (i.e. born about 1830) and single. The Hospital seems to have been a vast establishment with a population of some 3,500, according to the Census. JOHN was one of a very large group suffering from epilepsy. He appears (the writing is not fully clear) to have been a Disabled Volunteer Soldier (DVS), and had not worked in the preceding 12 months. JOHN and both his parents were recorded as having been born in England.
Papers found in Nov 2009 by Margaret Monthan and her daughter Holly Harrison show that JOHN was admitted to Central Branch, National Hospital for Disabled War Veterans, National Military Home, Ohio, on 29 Oct 1879, with the disability of epilepsy. Five years later, he was transferred to The US Government Hospital for the Insane, Washington, DC, on 20 Nov 1884. His medical history was described as "Epileptic, Dementia, Harmless". Two different documents relating to the transfer of the same individual give his age as 50 in 1879, and 65 in 1884. His height was recorded as 5 feet 7 inches, with fair complexion, grey hair and blue eyes.His occupation at enrollment was Tailor.
Is this the same JOHN who served in the British Army's 83rd Regiment of Foot some 35 years earlier? The age of 65 in 1884, given on one document (ie born 1819), appears to be wrong, as his age in the 1880 Census, four years earlier, was 50. However, his height is about the same as earlier, but his hair was now grey, and his complexion, previously sallow, was now fair. A puzzle is that his eyes were now recorded as blue, when previously they had been hazel. Can we shrug that off as a military error?
Despite the eyes, there were many similarities between the two soldiers called JOHN, enough to justify believing that they were one and the same.
JOHN died on 6 Mar 1888 of "Chronic Epileptic Dementia," at the US Government Hospital for the Insane, and is buried there. The District of Columbia records of Death and Burial 1840-1964, state that JOHN Tattersfield, American, White and Single, was by occupation a "Tailor-Formerly a Soldier". He died 06 Mar 1888, aged 68 years, in the Government Hospital for the Insane, District of Columbia, and was buried in the Hospital Cemetery on 7th March. Both his parents were said to have been born in England. His apparent birth year of 1820 differs a little from other records, but this can probably be explained by his mental debility. A list of Headstones for Deceased Union Civil War Veterans 1879-1903 shows that a headstone was supplied for JOHN TATTERSFIELD, Private, B Company, 1st Regiment Maryland Infantry, who died on 6 March 1888. The contract for the supply of the headstone was with Gross Brothers, Lee, Mass., and was dated 5 Sept 1891.
District of Columbia Deaths and Burials 1840-1964 Transcriptions records that JOHN was buried on 7th March 1888 in the Cemetery of the Government Hospital for the Insane. He was aged 68 years, single, and described as "Tailor-Formerly a Soldier."
To modern ears the US Government Hospital for the Insane, where JOHN lived from 21 Nov 1884 to 6 March 1888, sounds a forbidding place. In fact it was progressive, and focused on good care for its patients. Its ethos in 1878 was encapsulated in its Hospital Guidelines for Attendants, as shown below.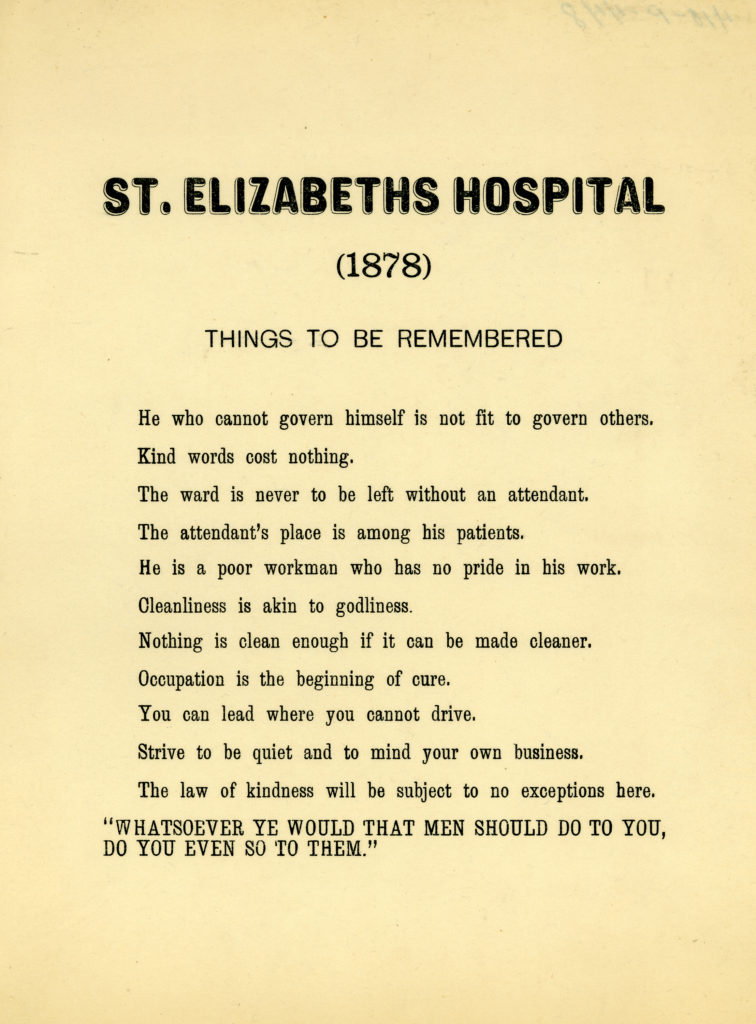 Many of the buildings were new, and , despite fiscal constraints, incorporated the "cottage plan", a new treatment philosophy of the era. The second Superintendent, William Whitney Godding, M.D., wrote "the insane have a right to expect, and should find, the hospital a home." The detached dining room for 500 people, is shown below, both outside and in, in 1885. It is intriguing to imagine that one of the people just visible in the exterior photograph, might have been JOHN.
The hospital has been re-named Saint Elizabeth Hospital. According to one source, "During the Civil War, wounded soldiers were reluctant to write home that they were being treated at the Government Hospital for the Insane. They began referring to the asylum as the Saint Elizabeth's Hospital after the colonial name of the tract of land where the hospital was located. Congress officially changed the hospital's name in 1916." It still fulfills the same functions, although, during the Civil War, it handled many amputees and others who had physical, not mental, difficulties. Today it is strictly a heavily secured mental hospital.
On 21 Jan 1908 the Superintendent of the US Government Hospital for the Insane wrote identical letters to the Commissioner of Pensions and to the Central Branch of the National Military Home in Ohio, asking for the address of any relative or friend of the deceased JOHN. This action, nearly ten years after JOHN's death, was required by an Act of Congress (34 Stat. 731) approved 30 June 1906. The St. Elizabeth Hospital records show this. Both addressees replied that JOHN had given them no details of relatives or friends. This seems to be in conformity with JOHN's anonymous beginnings in the Dewsbury Workhouse.
JOHN seems to have been issued Pension Number 50880, but the Bureau of Pensions has no record of any claim for a pension having ever been filed.
In 2009 a survey was carried out of the cemetery, and the burial place of JOHN was found. He is buried in East Campus, John Howard Cemetery, Section 2, Row 7, Grave 1225. Mr. Jogues Prandoni, Ph.D., the former Deputy Director of Forensic Services at Saint Elizabeth, graciously showed JOHN's grave site to Tattersfield descendants Margaret Monthan and Holly Harrison. The inscription on the headstone reads JNO TATTERSFIELD, CO B, 1ST MD INF. It remains clearly visible, as can be seen below.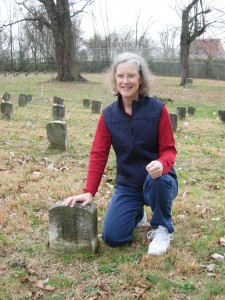 The above separate incidents relating to JOHN TATTERSFIELD can only be brought together in a single life by circumstantial evidence. However, the two appearances in the same Workhouse, three references to occupation as a tailor, two army careers, repeated reference to his being unmarried, frequent sickness and epilepsy seem strongly to point to the same man, who led an interesting, but, apparently, rather sad life.
Header Image: Union army troops entrenched in Virginia. Although it is unclear whether this photograph was taken at the Battle of Petersburg or nearby, it gives some indication of the condition and appearance of the men among whom John served while a Civil War Substitute Volunteer.   Everett Historical / Shutterstock.com