Introduction
Although the Tattersfields are a small family, and one that has not hit the headlines of world history, nevertheless the name Tattersfield has been given to a surprising number of places and products.
I have heard of the following appearances of the name TATTERSFIELD over the years. Do you know of any others? If so, please let me know, and I would be pleased to add them to the list.
Tattersfield Bridge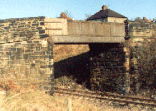 This was a small steel bridge across a now-disused railway line on the West edge of Dewsbury. The bridge has now been removed. I have not found out how it got its name. However, it is on an extension of a small road called Pilgrim Avenue in Dewsbury Moor. In 1889, two brothers, PHILIP and OBADIAH TATTERSFIELD (Heckmondwike branch: Joseph | Moses), were farmers on Pilgrim Farm, Dewsbury Moor, so there may well be some connection. The bridge appears, with its name, on the Ordnance Survey Pathfinder Series map of Dewsbury (sheet 22/32) at grid reference 228212.
The photograph shown here depicts Tattersfield Bridge as it appeared in the days when the railway track still ran beneath it.
Tattersfield Rugby Ground
The professional Doncaster Rugby League Club was founded in 1951, playing their first game in the Doncaster Greyhound Stadium. In August 1953 the club moved to the new Bentley Road Stadium. This stadium was later renamed Tattersfield after the late Chairman, LEN TATTERSFIELD (Heckmondwike branch: Joseph | William | Enoch | Walter). Over the next 40 years Tattersfield saw ups and downs in the club's fortunes, but was host to many memorable occasions, including, for example an under-21 international fixture in 1990 when Great Britain beat France 20 points to 6. The club gained promotion to Division 1 for the first time in 1993-94, and in 1994-95 Tattersfield was the venue for a game against Widnes, broadcast live on Sky Television, which Doncaster won by 21 points to 6. At that time, "the Dons" were at the top of Division 1.
However, the club was placed in Administration later that year. A plan to merge the club with Sheffield Eagles was unpopular with the fans and did not proceed. The Administrators found nobody interested in buying the club, and this led to the demise of professional Rugby League in Doncaster. The Dons played their last game at Tattersfield on 23rd April 1995. The land was prone to flooding.
Tattersfield Yard
There was a strong concentration of Tattersfields living in Kilpin Hill in the late 18th and early 19th centuries. At the top of the road, adjacent to The Heights, are a group of houses around an area which at one time had the postal address Tattersfield Yard. That address seems no longer to be in use. JOSEPH TATTERSFIELD (1747-95), who started the Tattersfield Heckmondwike family branch, was living at The Heights at the time of his death.
Tattersfield Place, New Zealand
There is a Tattersfield Place at Dinsdale, near Hamilton, in New Zealand. Can anybody tell us something about it? It would be nice to have a photograph, for example.

Tattersfield Place, Canada
Likewise, there is a Tattersfield Place at 108 Mile House, British Columbia, in Canada. PHILIP WALTER Tattersfield (London branch: John | James Ware | James (Ware?) | Walter | Walter Harold) was the designer and consultant for a project to build a development at 108 in the late 1960s. The project involved building lots, an airport, a golf course and other amenities. A road in the sub-division was named in PHILIP's honour. The road still exists, and the property is being operated as a resort.
This information was kindly provided by PHILIP's son JAMIE, who still lives in British Columbia.
Tattersfield Street, Ossett
In the nineteenth century there were at least two Tattersfield families living in Gawthorpe, Ossett, just to the East of Dewsbury. At one time there was a "Tattersfield Street". It was mentioned, for example, in a record of baptism in 1930, and is shown on the old Ordnance Survey map of Ossett printed in 1890. Tattersfield Street ran between Great Field Road and Little Field Road. It was redeveloped in the 1960s and the name was changed. A road called Greatfield Drive now seems to coincide with the original Tattersfield street.
Information about the location of Tattersfield Street was kindly provided by Mr Philip John Gardner
Tattersfield Mattresses
Early in the twentieth century, a company called Tattersfield Limited was established in Auckland, New Zealand, by descendants of the Heckmondwike branch. This firm were extremely successful as designers and manufacturers of rugs and mattresses. Work originally began in a galvanised iron shed with second-hand equipment. The rugs were made using medium-to-short wools that were at that time almost unwanted. Tattersfield rugs were exhibited at the British Empire Exhibition at Wembley in 1924. The purchase by Queen Mary of the whole exhibit of one of the designs and the gaining of the Wembley "Award of Merit" established the reputation of the rugs.
The early Tattersfield emigrants to New Zealand were brothers JAMES WALKER and CLIFFORD (Heckmondwike branch: Joseph | Joseph | Jeremiah | Frederick James). There are many descendants of the Heckmondwike branch still living in New Zealand, (and, in a separate migration, there are also New Zealanders who are descended from the London branch of the family).
Although the business is no longer in the family ownership, the brand name Tattersfield is still in use for mattresses. The image below shows a cutting taken from a New Zealand newspaper in recent years, advertising the brand.

Tattersfield Manifold
This is an intake manifold for a 1940s Ford Flathead V8 engine, which was developed by BOB TATTERSFIELD of California. CHART 2,3. He was the adopted son of ERNEST EVERETT Tattersfield, who had a company for automotive equipment before the Second World War. In the early 1940s, they produced speed equipment in the form of aftermarket parts designed to increase the power output of a stock engine for racing purposes. In the late 1940s they won some races on the dry salt lakes in the Western US area. They stopped production around 1952, so the parts that they made are now quite rare.
These photographs of the Tattersfield manifold (below left) and enlargement of the area bearing the Tattersfield logo (below right) were very kindly supplied by Mr Guenter Kriebernegg from Austria.
For those with a deeper interest in this subject, there is an article in Volume number 11 of The Rodders Journal, entitled the Tattersfield-Baron Story.
Tattersfield Stomp
In 1937 Count Basie and his Orchestra recorded The Count at the Chatterbox at Hotel William Penn in Pittsburgh, Pennsylavania. On February 12th, 1937, he recorded a jazz piece called Tattersfield Stomp. It seems that Count Basie obtained a number of scores from the vast library of Fetcher Henderson, who very probably wrote the piece. The work is obtainable today in CD form (Galaxy Music Ltd. CD 3891162 (1995)) as a track of 2 minutes 31 seconds duration. A twenty-second clip from the piece can be downloaded by clicking on the image below:
Tattersfield Authored Books
Tattersfields have written or contributed to a considerable number of books, including the following. The authors are listed alphabetically.
ANNE ELIZABETH TATTERSFIELD (Heckmondwike branch: Joseph | Joseph | George | Joseph | Charles Pickering | Charles Percival). Anne was Professor of Medicine, until her recent retirement, at Nottingham University in the United Kingdom, and has written a number of books and many papers. Among her books are:

Respiratory Disease (Treatment in Clinical Medicine), written with Martin W. McNicol.
The Health Effects of Exposures to Mixtures of Air Pollutants – Many reports have been published.

DAVID JOHN TATTERSFIELD In 2000 he published A Village Goes to War – a History of the Men of Ravensthorpe who fell in the Great War.
DONALD TATTERSFIELD (Heckmondwike branch: Joseph | Moses | Obadiah | Moses). The late Donald Tattersfield was a lecturer in Cheltenham in the United Kingdom. He was a very enthusiastic astronomer. His books were:

Projects and Demonstrations in Astronomy, 1979
Orbits for Amateurs with a Microcomputer, 1985
Halley's Comet
Orbits for Amateurs with a Microcomputer, Volume II, 1987

EMILY TATTERSFIELD (1865-1932) (Heckmondwike branch: Joseph | Joseph | George). Emily lived in Harrogate for part of her life. She wrote a book of children's poems.
JANE TATTERSFIELD (). Jane Tattersfield is a book illustrator. The books in which she has participated include:

In the Beginning There was Joy: A Celebration of Creation for Children of All Ages, by Matthew Fox
A Children's A to Z of Africa, by Joy M. Odeara

LISA TATTERSFIELD (). With other authors, Lisa wrote Endocrine Disruption in Invertebrates : Endocrinology Testing & Assessment, 1999.
NIGEL TATTERSFIELD (Heckmondwike branch: Joseph | Joseph | Jeremiah | Frederick James | Joe | Allan James). Nigel's books include: 

The Forgotten Trade : Including the Log of the Daniel & Henry of 1700 & Accounts of the Slave Trade from the Minor Ports. Published in 1993, it has achieved a wide reputation.

Bookplates by Beilby & Bewick : A Biographical Dictionary, August 1999
John Bewick: Engraver on Wood (1760-1795), published 2001.
Internet References
Even a cursory search on the Internet will reveal several hundred to a thousand references to the Tattersfield name. Probably the most prominent reference is to the design firm Minale Tattersfield & Partners . This firm was co-founded with the late Marcello Minale by BRIAN TATTERSFIELD (Heckmondwike branch: Joseph | Joseph | John | Samuel | John | Norman). They have many well-known projects to their credit and have published such books as All Together Now, How to Design a Successful Petrol Station and Leader of the Pack: How to Design Successful Packaging , to mention only a few.
Also prominent in Internet searches is Barbara Tattersfield Designs , who are US importers of custom-designed hand-carved architectural stone and marble for residential and contract interior design.
There are many other Tattersfields to be found on the Internet. Some have sporting achievements, others have written technical papers, still others are prominent in the worlds of music, medicine, bridge, etc. etc. Apologies to the many who are not mentioned here!
I would be most pleased to hear from anybody who would care to correct or to add to the above list.