The earliest Tattersfield of whom there is evidence that he lived at Kilpin Hill, was Joseph (1747-1795).
Kilpin Hill is a winding minor road, near the Heckmondwike/Batley boundary. It rises quite steeply from the Halifax Road, which runs from Heckmondwike to Dewsbury. Some 500 yards from the bottom of Kilpin Hill, on the other side of Halifax Road, is Upper Chapel, Heckmondwike, a centre of Independent (or Congregational) worship since 1674. The Kilpin Hill Tattersfields attended Upper Chapel, and some were Elders or Trustees.
Joseph, and his wife Sarah (1749-1819) had been born in Dewsbury, and they were married in Dewsbury Parish Church on 7 October, 1768. They had five daughters and five sons.
The eldest child, Sarah (1769- c1841), was baptised in Dewsbury Parish Church on 16 May 1769. No baptism records have been discovered for the next six children. The seventh child, William, was baptised on 22 July 1786 at the New or Zion Independent Chapel, Wakefield, which was founded about 1782. The register shows that children of "Dissenters" were brought for baptism from some miles around, so does not provide any proof that Joseph and Sarah lived in or very near Wakefield at that time. It is not known why William was taken to Wakefield for baptism, when Upper Chapel, Heckmondwike, would appear to have been closer.
The ninth child, Amos, was baptised on 4 Dec 1889 at Upper Chapel, Heckmondwike. Unfortunately, the first volume of baptisms and burials at the Chapel seems to be missing, and this record, in the second volume, is the first known reference to the name Tattersfield at the Chapel.
The last child, Moses, was baptised at Upper Chapel on 17 Mar 1791. On the same day John Carr, the eldest child of Joseph's and Sarah's first daughter Sarah (and hence the nephew of the baby Moses!) was also baptised at Upper Chapel.
Amos died on 9 Mar 1790, aged 1, and was buried at Upper Chapel. His parents were later buried in the same grave, (which was exhumed some years ago). The flat slab tombstone read: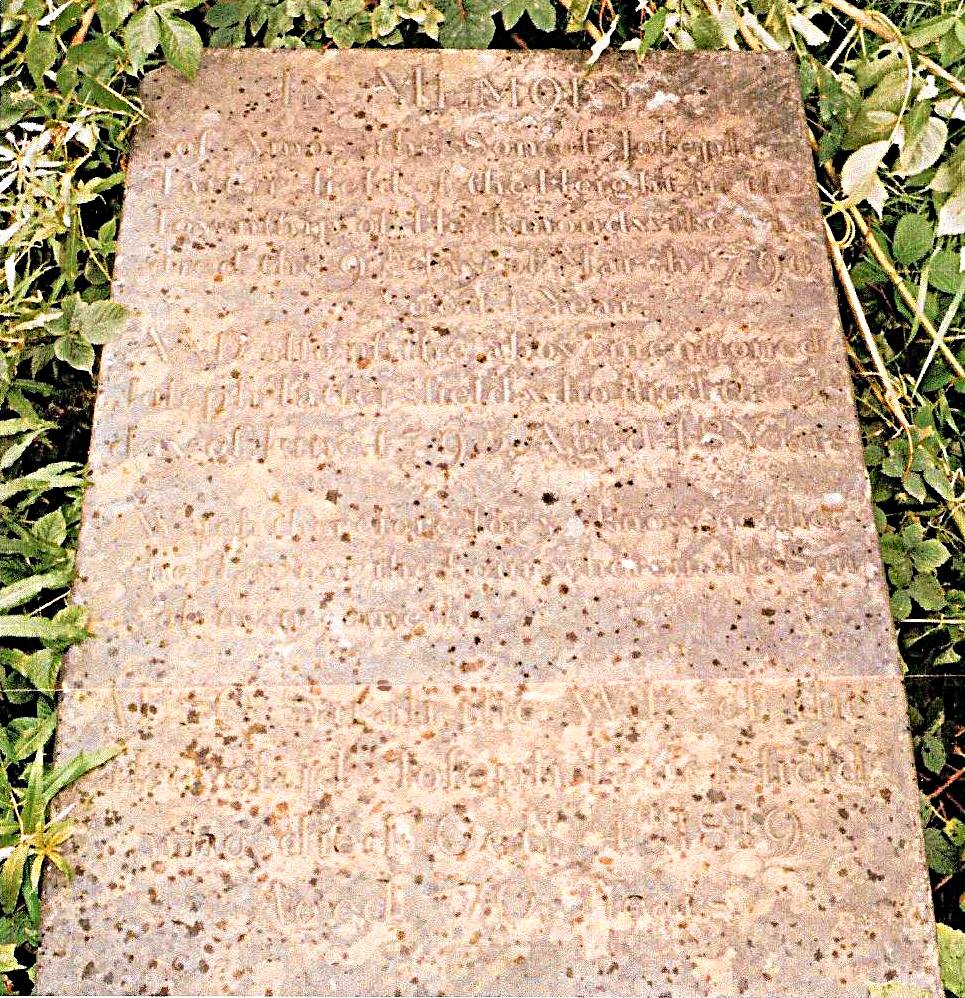 In Memoryof Amos the son of JosephTattersfield of The Height, in the township of Heckmondwike, who
died the 9th day of March 1790 Aged 1 year And also of the abovementioned Joseph Tattersfield who died the 3rdDay of June 1795 Aged 48 years."Watch therefore for ye know neither the day nor the hour wherein the Son of Man cometh"
Also Sarah the Wife of the
Abovesaid Joseph Tattersfield
Who died Oct 4th 1819
Aged 70 years.
The Height, mentioned in the epitaph of Amos, is a row of houses, still to be found at the top of Kilpin Hill.
Eight of Joseph's and Sarah's children married in Birstall Parish Church nearby, and were described as coming from Heckmondwike. The eldest, Joseph (1779-1851) was married in Batley Parish Church, perhaps because his wife Martha Brook was a Batley girl. It seems probable that the Non- conformist ministers of Upper Independent Chapel were not authorised to conduct marriages, so the Tattersfields, though Independents, were married in the local Anglican Birstall Parish Church.
All the above shows that Joseph (1747-1795) and Sarah moved from Dewsbury to Kilpin Hill some time between 1769 and 1789, either directly or via some other home. They founded at Kilpin Hill a Tattersfield colony, which was not only numerous, but which played a substantial part in the industry and the economy of the area. Their descendants established many important woollen mills, such as Jeremiah Tattersfield and Sons, George Tattersfield & Co., Moor End Mills, John Tattersfield and Sons, and Tattersfield Oddy and Co. (later Staincliffe Mill Co. Ltd), to name a few.
Joseph (1747-1795) drew up a Will, the first Tattersfield will known. He signed it on 28 May 1795, just six days before he died. It described him as a Clothier. It is believed he would have bought woollen cloth from cottage weavers round about, transported it, and sold it on at larger markets. His assets were less than £300. He was probably quite comfortably off, living at The Height.
The first three sons of Joseph and Sarah all became prominent blanket manufacturers in Kilpin Hill, each employing between 15 and 30 people, men and women. The youngest, Moses, was a Fuller and Farmer in the 1851 Census. All four died in the 1850's.
The five daughters all married and produced families in the immediate area, with surnames Carr, Scatchard, Oddy, Taylor and Dey.
No attempt is made in this article to describe the lives of the children of Joseph and Sarah in detail. However, a fascinating snapshot of Kilpin Hill around 1860 is given in an unattributed newspaper article in the Dewsbury Reporter of Saturday May 21, 1910, entitled "OLD KILP- An Old Time Blanket Centre". It is reproduced below in full.
First, however, it will be useful to see who the persons named in it were, and their relationship to each other. Of the 14 people named, only Joe Pinder and William Walker cannot be positively connected to the Tattersfield family, although the latter may well have been related also.
Jeremiah (1812-1886, see photo below and other articles on this website), William (1806-1869), George (1822-1887) and Samuel (1817-1853) would all have been sons of Joseph (1779-1851), who was the eldest son of the original Joseph (1747-1795) and Sarah. (More details of George are given in a separate article on this website).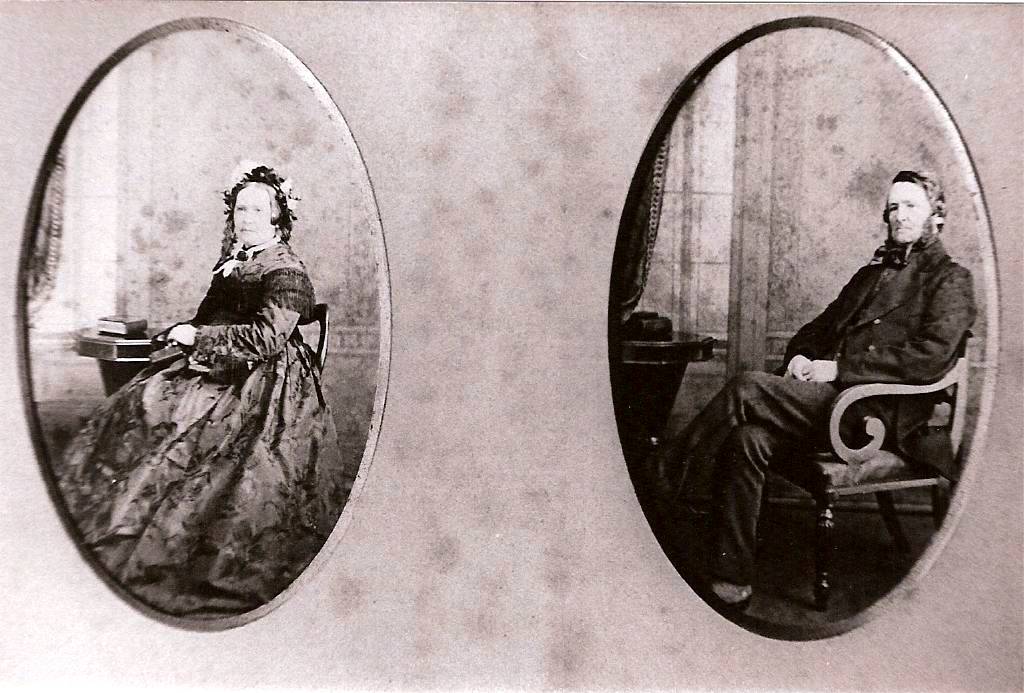 Martha Tattersfield (nee Hirst), 1814-1893, and her husband, Jeremiah Tattersfield, 1812-1886
Photograph kindly lent by the late Mrs Ann Irwin, a great granddaughter of Jeremiah and Martha Tattersfield.
Aked was, as stated, a son of William. He emigrated to America in June 1881, and bought a farm 4 miles north west of Flandreau, South Dakota. He and his wife Catherine nee Tattersfield, who was also his first cousin, founded a very large family, many of whom still live in USA. It is hoped to present a separate article about that branch of the family. The genealogy shown on this website names some 330 of their known descendants and spouses.
All the above fall within Charts 2&3 of this website.
The Moses named in the newspaper article, is very probably the son of John (1784-1856), second son of Joseph and Sarah, and comes within Chart 1.
Old James Walker and Young James Walker were father and son. Hannah Walker (1822-1895) was a daughter of Old James. She married George, (my great great grandfather), as described in the separate article about him. Members of the Walker family have married Tattersfields in at least four instances.
Three of the persons mentioned in this article. First on the left is "Starchy" George Tattersfield (1822-1887) and second is his wife Hannah (nee Walker) (abt 1822-1895). The third photo is thought to be Hannah Walker in earlier life, based upon the similarity with her older image, and the fact that the younger photo came from the album of Mrs Ann Irwin which contained many Walker family photographs. Hannah's brother, the young James Walker (abt 1825-1901) also mentioned in this article, is shown in the fourth photo on the right.
Christopher Oddy was married to Patience Tattersfield, a daughter (probably the third) of Joseph (1747-1795) and Sarah. John Heald was a son-in-law of Christopher Oddy. John Clegg was the second husband of Christopher Oddy's daughter-in-law!
The affectionate reminiscence reproduced below, while being about Kilpin Hill and its woollen industry, is, at the same time, a brief and tantalizing account of a part of the Tattersfield family of Heckmondwike.
From the Dewsbury Reporter of May 21, 1910.
"OLD KILP" – AN OLD TIME BLANKET CENTRE.SOME INTERESTING REMINISCENCESOld Kilp! did you know it fifty years ago? (1860)What a busy place it was, to be sure, and what a difference there is now. Pass through it today and it looks lost; forsaken, desolate; many of its roads are paved with stone, and today grass is growing between the stones. A stranger would surely ask why a town like Batley should have gone to the expense of paving roads in an outlying district at the extreme edge of its boundary, where no business is being carried on, and where the rateable value must be small. But let him ask some of its old time inhabitants and they can tell you a tale of its old time bustle and business that you would never expect from its appearance today.Buttonhole the right man, such as old Joe Pinder(1) (I think he is still living), and he would tell you that in his day there were at least twelve blanket makers on Old Kilp, and today there is not one; of how they dropped off one by one, death and extinction of business for some, failure and stoppage of machinery for others, giving up the business for real or fancied exchange into a more remunerative trade in some cases, and with two firms only, removal of their business to other localities.


There were Jeremiah Tattersfield and old James Walker in those days, pushing men both, who often took a good sized order between them and bought their wool together and spun and wove it at their workshops. They were not strong enough in the pocket at that day to take a big line by themselves, but 'union was strength', and they made good progress for many years, both becoming able to walk alone and tackle anything likely to turn up in trade.

Jeremiah was a grand old man, tall and comely, fine to look at, fond of a good horse, and knew how to drive it. He had a generous soul with it all, and many an old body received a weekly dole in times of stress. And what a family he had, five stalwart sons and four daughters.

Old James Walker was so called to distinguish him from his son, young James who died at Mirfield some ten years ago in his 78th year. The old man was a Deacon at Upper Chapel, Heckmondwike, for a generation before his death, and was looked up to as a Patriarch on the top of Old Kilp, and had old folk in his service who had known no other master, and lived on the hillside all their lives.

Then there was William Tattersfield, alias "Butcher Will", a name that stuck to him all his life. In his early years he was a butcher for a year or two; he was a shrewd, calculating man, and did very well in his day out of the blanket trade. His son Aked thought he could do better out of Malting, and in the long run went to America.

There was George Tattersfield, alias "Becca George", and John Tattersfield, alias "A.T.", the founder of the present firm of John Tattersfield and Sons, of Dewsbury Moor. Moses Tattersfield was another of the Tattersfield blanket making clan, a dapper little man who loved to wear a blue blanket instead of a top coat.

Sammy Tattersfield also ran a few looms, he was reported to be a pushing man. A hand-loom weaver left him because his pushes were 'perpetual'. In those days a hand-loom weaver would occasionally work two nights and two days at a stretch; one imagines that a few clandestine naps must have happeed in the night.

Another man of broad proportions was Christopher Oddy, one of the founders of Tattersfield Oddy and Co., now Staincliffe Mill Co., Ltd. At what was called the 'Back of the hill' John Heald used to put down a blend of wool outside his front door, with the blue sky as a roof for his warehouse. On a fine day this was a pleasanter way of blending than is pursued now.

There was John Clegg, a little further on, who was noted for his 'Extra Super Blankets' and to make up the dozen, William Walker at the bottom of the hill. In his younger days he used to mill his own pieces, and I remember hearing him say when he was over seventy that he liked to hear the 'Nap' of a stockfoot. The great grandfather of Major P.B.Walker (of Messrs Wormalds and Walker) was a native of Kilpin Hill, and made blankets there. Old James Walker and he were great cronies as young men, say about 1830.

As a child the writer knew all these men but one, and he must have seen him but cannot remember his face. Some of your readers will imagine that the blanket trade is dying because it has become extinct in one hamlet, but we must remember that fifty years ago Dewsbury mills did not turn out the quantity that they do today, and that there were no blanket mills at Mirfield then, where over half a million blankets a year are made now, and that Witney(2), with its lower wages, has more than trebled its output. A village may sink and a town may decay, but the volume of trade still remains, and Yorkshire Blankets can still maintain their own.
Notes:
(1) Joseph Pinder, the last handloom blanket weaver in Kilpin hill, died 1910. He is mentioned on the Spen Valley Civic Society Fame Trail, where a small photograph of him also appears. The Spen Valley Civic Society Website may be found at http://www.svcs.org.uk
(2) Witney, a market town in Oxfordshire
Header Image: A couple from probably the fourth generation of Tattersfields to live at Kilpin Hill, outside their home. The couple is probably Jeremiah Tattersfield (1844-1916) and his wife Alma (née Monthan) (1855-1943), as they appeared sometime in the late 1800s and prior to their emigration in 1899 to the United States. Photo kindly provided by Margaret Rae Monthan.