Research
I began actively studying the family tree in about 1955 and am still heavily involved. My searches have included the registers of births, marriages and deaths (from 1837), parish registers, non-conformist chapel registers, the International Genealogical Index (IGI – of the Church of Jesus Christ of Latter Day Saints), census records, polling records, deeds, wills, monumental inscriptions, trade directories and other sources.
Over the years I have also made contact by visits, telephone and letters with many people who have or who had the surname TATTERSFIELD. Most were very happy to give me details about themselves and their immediate families, from which I was able to build up the overall picture. I am very grateful to all who have generously contributed their information.
In Dec 2019 the Tattersfield DNA Project was launched, involving Participants from most of the branches. It was completed in April 2020, and is described in more detail below. It has led to the surprising conclusion that, genetically, there were two families with the surname Tattersfield in and around Dewsbury in the late 18th century.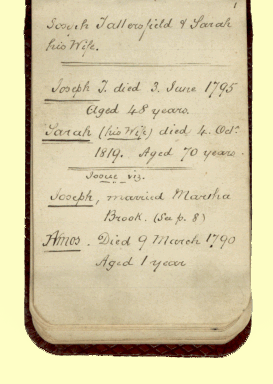 At an early stage I was given a small notebook in which the descendants of JOSEPH TATTERSFIELD (1747-95) of Heckmondwike had been recorded for a few generations down to the 1870s in the immaculate handwriting of the period. The first page of this early historical record, listing JOSEPH's marriage and two of his children, is shown in the picture to the right. The Heckmondwike family has proved to be extremely prolific and accounts for a high proportion of all the TATTERSFIELDs since the 1780s.
Of course, in recent years, the Internet has been a tremendous help. For example, every entry in the US Federal Censuses from 1790 to 1940, and in the UK Censuses from 1841 to 1911 is now available in the comfort of my home at the click of a button. It used to take hours to search through one census of a single town on microfiche in a library years ago.
As a matter of convenience, and to keep the original hand-plotted family trees down to a practical size, the family was plotted out on to separate CHARTS as follows:
| CHART(s) | LOCATION |
| --- | --- |
| 1-4 | Heckmondwike, Descendants of JOSEPH (1747-95) |
| 5 | York |
| 6 | Hull |
| 7 | London |
| 8 | Leeds |
| 9 | Lancashire |
| 10 | Early Dewsbury |
| 11 | Descendants of a Mirfield Marriage of JOSEPH, an oilcrusher (1769-1840) |
| 12 | Descendants of KESTOR (1761-1835) |
This numbering system has been retained in this descriptive account and in the accompanying family trees.
Header Image: Stock image, showing the genealogist's workbench as it typically appears.   MeganBrady / Shutterstock.com