This article on the Monthan family, who changed their name from TATTERSFIELD in 1917, was contributed by Margaret Rae Monthan. Her ancestry is Joseph TATTERSFIELD (1747-95) | Joseph | Jeremiah | Jeremiah | Guy (changed surname to Monthan) | George Rae Monthan
A 1910 historical reminiscence from "The Dewsbury Reporter" described JEREMIAH TATTERSFIELD (1812-1886) as "a grand old man, tall and comely, fine to look at, fond of a good horse, and knew how to drive it. He had a generous soul with it all, and many an old body received a weekly dole in time of stress. And what a family he had, five stalwart sons and four daughters." Unfortunately, after his death the declining blanket manufacturing business challenged the family fortunes. While his two eldest sons, JOSEPH and HENRY, died fairly wealthy, two younger sons, JEREMIAH and ROBERT, chose to leave England.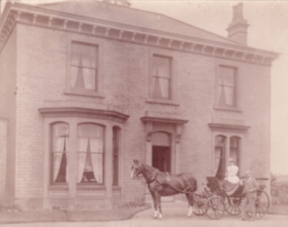 The younger JEREMIAH left England in his mid-fifties to build a ranch in Canada. JEREMIAH soon settled with his wife and his own five sons in the United States, where their descendants still prosper. Old JEREMIAH's youngest son, ROBERT, also emigrated with his family to Calgary, Canada, arriving at Ellis Island in 1899, and has descendants still living in Canada today.
The younger JEREMIAH was born on Christmas Day, 1844, and baptized on January 6, 1846 in Upper Independent Chapel, Heckmondwike. He was listed as a Blanket Manufacturer in the 1881 census, and is mentioned in Kelly's Directory for the West Riding in 1897 as a resident of Dewsbury.
JEREMIAH married a Swedish lady, Alma Monthan, in 1876. Their five sons were born between 1877 and 1885. Alma was proud of her heritage and gave their sons the middle name of Monthan. The three oldest sons (HAROLD, ERIC, and GUY) emigrated first, about 1898, settling at Horse Creek Ranch in Cochrane, Canada, to the west of Calgary. A few months later, JEREMIAH, Alma, and their two youngest sons (CARL and OSCAR) joined them.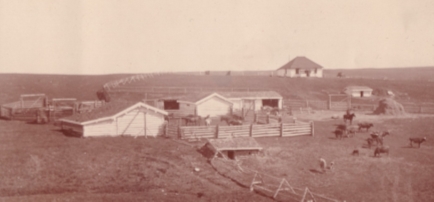 The TATTERSFIELDs, however, found Canada to be COLD! After living there for less than two years, the family left Canada to start a cattle ranch in a warmer climate. Their original destination was Argentina, by way of Mexico and Panama. Alma wrote to a friend, "I have now sold the rest of my never-to-be-forgotten old home, all my fine clothes, furs, etc., anything that could be turned into money, so as to get our outfit. In a week I hope we shall start for the States en route to Mexico. We shall have two teams of horses and eight riding horses, two tents and one wagon and a demokrat [small wagon]." Their small wagon train entered the U.S. in 1900 at Sweetgrass, Montana, and traveled south through what are now the national parks at Yellowstone and Jackson Hole, Wyoming.

JEREMIAH'S grandson, GEORGE MONTHAN of Tucson, Arizona, tells a story he heard from his father GUY, who was 19 at the time: "When entering Jackson Hole, you're up on a high plateau, and you have to go down a very steep road into the town. It was a one-way road, and all the wagons were loaded. Local people advised, 'you gotta brake 'em, or you'll wear your brakes out just using the wagon brakes, and the horses can't hold the load.' So they cut down trees and dragged the trees so they acted like brakes. They're heading down this long hill, maybe three or four miles, and here comes a wagon coming up, and it's empty, and there's no room to pass, so what they had to do was stop and help this guy dismantle his wagon. They carried it around their outfit, reassembled it, and went along their way."
From Wyoming the TATTERSFIELDs cut across the Rocky Mountains at Donner Pass, and traveled south through San Francisco and Santa Barbara before cutting southeast toward Mexico. A newspaper article of unknown date and source states that "Mr. and Mrs. Jeremiah Tattersfield, formerly of Kilpinhill, near Dewsbury, had arrived in San Francisco. Mr. Tattersfield, who was a blanket manufacturer, went out to Canada, and his relatives and friends in the Heavy Woolen District are not aware that he has left the Dominion. No letter has, however, been received from him for some time."
While working in California for about six months to earn money, the five boys took various jobs, including lumber jacking in the redwood forests and working in a sugar beet mill. While in Santa Barbara, the boys would race their horses up and down through the surf, riding bareback. Continuing their journey down the coast to Los Angeles, they then headed east toward Arizona.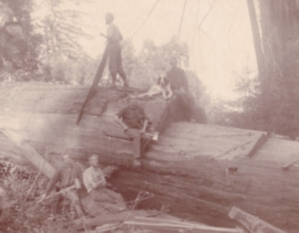 According to GEORGE MONTHAN, "They couldn't go through sand dunes west of Yuma, Arizona, with the wagons, so they had to go north of the sand dune area. Crossing the desert from Indio, California, to Yuma, approximately 100 miles, took them two weeks. It was pretty rough going, and they had to push the outfit to get it through. I don't know what time of year it was, and I don't think it was summer, but my dad said they ate nothing but raw eggs for a couple of weeks, cracking them on the saddle horn. Then they crossed the Colorado River, and, of course, there were no bridges there then, so they loaded the horses and wagons on a little ferry."
"Then the story was that they got to Naco, Arizona, where there's a border crossing, and the Mexicans wanted a lot of money under the table to give the outfit clearance into Mexico. And they didn't have that kind of money. And they looked around, and said, heck, this looks like a nice area. So they backtracked a little bit, and went to Tombstone, Arizona, the famous frontier town. The boys worked in the Tombstone mines, and at that time probably Tombstone was THE town in southern Arizona! The mines were petering out as they'd been flooded by underground water. Tombstone was on its decline. But anyway, I know my dad worked in the mines, and he said it was a wonder none of them were killed. Very dangerous working conditions!"
Alma TATTERSFIELD wrote, "We are now a few miles from Mexico, close to the frontier. The boys are studying mining engineering by correspondence in their spare hours and have come here to get to know it practically, at the same time receiving remuneration. There is here a large company operating 60 goldmines. HAROLD, ERIC, and GUY have succeeded in getting employment at the mine. CARL and OSCAR, they study all day waiting for a chance to be taken on."
After raising some money, the family backtracked further and settled in the Tucson area, first at a ranch at Tanque Verde, then at a ranch on the Cienega Creek east of Tucson and just east of the tiny Sonoran desert town of Vail, Arizona. They called their land the Vail Ranch or (later) Rancho del Lago (in the early 2000's the land's current owners began turning it into a golf course and expensive houses). Initially they cultivated and raised fruits and vegetables. With increased competition after the advent of refrigerated rail cars from California, they began growing nursery stock that they could sell year round in Tucson, eventually opening a retail nursery business in Tucson.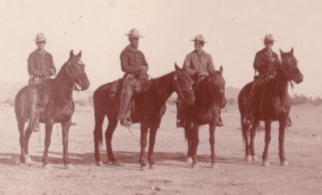 Unfortunately, the eldest brother, HAROLD, went back to Mexico to work in the mines and died there. HAROLD was the most educated of the five brothers. He had the equivalent of a college engineering education before leaving England at the age of 21, and he became a mining engineer. According to a newspaper account, "HAROLD was accidentally killed when being lowered down a mine shaft in Mexico while on a tour of that country in 1909."
After her husband JEREMIAH died at the age of 72 in 1916, Alma marched her four remaining grown, unmarried boys down to the court house on April 18, 1917 and dropped their surname TATTERSFIELD for two reasons: WWI had just started for the USA and the boys wanted shorter names for military service, and Alma was happy to have them take up her maiden name because she was very proud of her Swedish heritage. After all, she grew up in the shadow of the Swedish Royal Court, where her mother was a lady-in-waiting to the Queen and her father was secretary to the King. Little is known of Alma's family except that her daughter-in-law (GUY's wife) believed they emigrated to Sweden from France with Jean Baptiste Bernadotte in the early 1800's when he left Napoleon's service to be adopted by the aging, childless King of Sweden.
Although she had her sons use their middle names of MONTHAN as their new surnames, Alma kept the name TATTERSFIELD until she died many years later in 1943 at the age of 88. According to GEORGE, "She was famous around Tucson. She had a little black carriage and a fancy horse; she was dressed up in black, fit to kill, and pranced around town like that, and she was called Madame TATTERSFIELD."
All four surviving brothers wanted to serve their new country when World War I broke out. According to family history, they drew lots to see which brother would remain to run the ranch and nursery business. GUY lost and stayed behind, while ERIC, CARL, and OSCAR went off to fight in the war.
ERIC and CARL joined the U. S. Army in 1917, one as a captain in the infantry and the other as a balloonist, but the war ended by the time they completed training so they never went overseas to France. Both married and started their own nursery businesses in the late 1920's in Phoenix and Tucson, respectively. GUY continued working the original Tucson ranch and later opened his own nursery business in Tucson. ERIC had no children, and CARL's only son CHARLES settled childless in Tucson.
The youngest brother, OSCAR, also joined the U. S. Army Air Service in 1917 and married a beautiful Army nurse, although he died young and had no children. However, he found fame as an aeronautical engineer and early aviator. OSCAR became a pilot too late to fly in the war, but he worked with General Billy Mitchell in the development of military bombing aircraft. A family story is that Billy Mitchell once caught 400 fish in the lake on the Tucson ranch. He released them, so he probably caught some fish twice.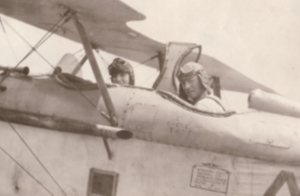 In 1923, OSCAR was sent to "foreign" service in the Territory of Hawaii, where on March 27, 1924 he was killed in the crash of a Martin B-2 bomber in the Honolulu area. In 1927, Col. Charles A. Lindbergh dedicated the civilian field in Tucson as Davis-Monthan Field (the same year he flew solo from New York City to Paris non-stop). GEORGE MONTHAN, then 6 years old, remembers viewing Lindbergh's airplane, the Spirit of St. Louis, at the dedication. When the Army Air Corps officially became the U. S. Air Force after the end of World War II, the field became known as Davis-Monthan Air Force Base.
Davis-Monthan Air Force Base is still an operational base today and the headquarters for the Twelfth Air Force, which is charged with commanding, administering, and supervising tactical air forces west of the Mississippi River. Davis-Monthan Air Force Base is also known for its large military aircraft storage facility that contains over five thousand mothballed current and obsolete aircraft. This storage facility is internationally known as a supply source for flyable combat aircraft, scarce aircraft parts, and vintage airplanes.
Today's MONTHANs descend from JEREMIAH's middle son GUY, whose two sons are GEORGE of Tucson and GUY of Albuquerque, New Mexico. GEORGE continued Oscar's military tradition, spending a career in the U. S. Navy as an aircraft carrier pilot and test pilot. His three daughters served in the Navy, and a granddaughter is currently a career U. S. Coast Guard officer who just returned from commanding a cutter in the Persian Gulf; another granddaughter is at the U. S. Air Force Academy. One of his two grandsons works in computer technology and the other will enter college this fall with a major in music.
During World War II, GUY also served in the Navy (on an LCI in the South Pacific). After the war he became a successful artist and photographer and taught both subjects at Northern Arizona University for twenty years. His work was exhibited at various galleries and museums in the Southwest. He collaborated with his writer wife on three books and numerous articles on American Indian art. His son, William, recently compiled biographical information on his great uncle, Oscar Monthan, and his place in aviation history. William is currently a Hospital Administrator in Albuquerque, New Mexico. The eldest of William's three sons is an engineer, the middle son is a student in the College of Architecture at the University of New Mexico, and the youngest is a pre-med student at Florida State University at Tallahassee, Florida. All are continuing the Monthan (i.e., Tattersfield) name in America.
Header Image: The small party of Jeremiah Tattersfield, together with their animals and equipment, traveling southward into the United States in the year 1900.  Image kindly provided by Margaret Rae Monthan.