This article was written by John Field, son of Robert Henry Field whose mother changed the family name from TATTERSFIELD to FIELD after about 1905. John Field's ancestry is Joseph TATTERSFIELD (1747-95) | Joseph | Jeremiah | Robert | Robert Henry (Bud) (surname changed to Field)
A thank you to cousin John Tattersfield of Ashford, Kent, England, as well as to my sister Elsie Cooper, for their extensive research into the Tattersfield genealogy. It was this bank of information, as well as verbal input from my older sisters, that formed the basis of this article.
My Grandfather Robert Tattersfield was born to Jeremiah and Martha Tattersfield, on July 16, 1854 at Kilpin Hill, Heckmondwike. He had four older brothers: Joseph, Henry, Jeremiah Jr. and Frederick, as well as two living sisters. Robert's father, Jeremiah, was a manufacturer of woollen goods, and had a mill close by, which allowed Robert and his brothers the opportunity to gain experience in the industry.
Robert married Martha Ann Furniss on March 25, 1886. He was 31 and she was 21 years old. His residence at the time was still at Kilpin Hill, Heckmondwike. Robert was listed as a wool dyer and later, in 1897, as a soap manufacturer. He had gained further insight into the woollen manufacturing industry overseas by a visit to the USA in September of 1883, prior to his marriage. During this visit he toured the woollen manufacturing factories of the south, and went on to visit the cotton manufacturers of Massachusetts as well.
In the late 1890s, Robert's brother Jeremiah Jr emigrated with his wife and family to Canada and began to ranch at Cochrane Alberta, just west of Calgary. Later, toward the end of the 1890s, they left Canada and travelled into the USA where their descendents still live today (see Article #8 in this series: The TATTERSFIELD (MONTHAN) Family of Arizona, USA). The father, Jeremiah senior, passed away in 1886 and his manufacturing business went into decline which seemed to cause a split in the family.
Why the two brothers, Jeremiah and Robert, emigrated to North America within a couple of years of each other, may never be known. There are a couple of theories which have been tossed about over time. One is that the original business went into decline after the older Jeremiah's death and that somewhere in the process a fire occurred, (and perhaps this was why Jeremiah Jr left). Another is that Robert had been accused of having a relationship with someone for quite some time prior to his marriage. This may have caused controversy within the family – perhaps due to the culture of the day. One has to wonder if this had any bearing in Grandmother's decision to drop the "Tatters" from the name after Grandfather's death. Curiously, after younger Jeremiah's death, his wife also dropped the Tattersfield surname and changed it to her maiden name, Monthan.
Records indicate that Robert and family arrived on the ship Lucania at Ellis Island, USA from Liverpool, England on 9 December, 1899. The ship's manifest shows passengers Robert 44 yrs, Martha 34 yrs, Constance 11 yrs, Hereward 9 yrs, Robert Henry 7 yrs (my father), Hugh 6 yrs and Montague 7 months. After being processed, records indicate they travelled to Iowa and stayed with a Mr. George Furniss and wife in the township of West Branch. George apparently was Martha's brother and also a practising Presbyterian minister. Upon leaving the brother's home, it can only be surmised that Robert and his family travelled to the closest Canadian railway station and took a train across the prairies to Calgary, arriving in 1900. A photograph shows Grandfather and Grandmother and family, shortly after arriving, standing outside their home on the outskirts of Calgary. The area today is known as Inglewood and is just east of the main business district.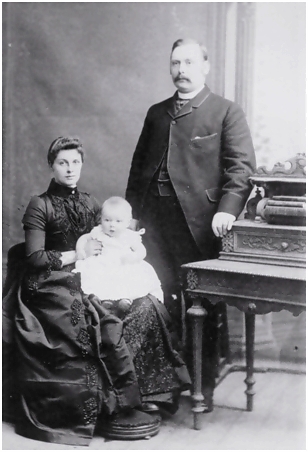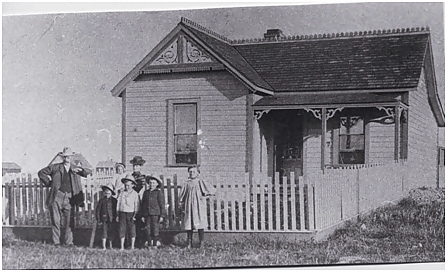 My father, Robert Henry, never spoke of his early life (apart from a small amount to Mother after their marriage) to any of us, and the tidbits that did filter down came from what Mother had heard. It was only in the last stages of life, when he was suffering with terminal cancer, that he shared some information with a couple of the sisters A) so a birth certificate could be acquired for pension purposes and B) he wished to visit his birth place. He said he had lived with his family in a large house called Highfield house which was located up on a hill in the district of Mirfield and that his father had owned a mill there. It was from this kind of information that we learned Robert (Grandfather) had a future plan to start his own woollen business in Calgary, but in order to provide for his family in the short term began working for the Loughheed family. His spare time was spent training horses for a Colonel James Walker, who supplied them to the army. Unfortunately, time was not on his side and he passed away in 1905 from what is now called Nephritis. Grandmother was left in a land which seemed foreign to her, with a month old baby girl and the five older children who had accompanied her from England.
Grandfather is buried in Union cemetery in south Calgary with son Robert H and Robert H's wife Lola. Grandmother chose to be buried across the road in Burnsland cemetery with her daughter Constance. The photographs below capture the transition of the family name across the two generations.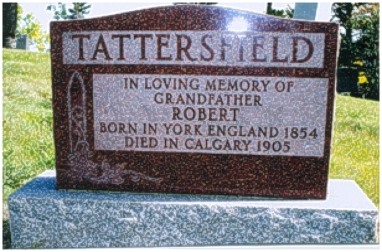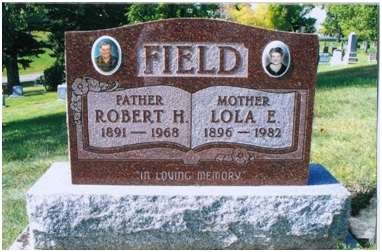 My Grandfather Robert Tattersfield and my Parents Robert H and Lola Field are memorialized on either side of a single stone in Union Cemetary.
Robert H was born to Robert and Martha Tattersfield on 25 November, 1891 at Highfield House, Mirfield, England. In 1899 the family left England and sailed to New York USA. They travelled through to the state of Iowa and then onward to Calgary, Alberta, Canada arriving there in 1900. Records indicate the family consisted of the parents, daughter Constance, brothers Harry, Hugh, Monty and Robert H. Later, in 1905 a daughter Ruby was born. The family settled in a rather modest house in an area on the edge of the city which today is known as Inglewood.
Robert (Grandfather), it is thought, chose Calgary as their destination because his brother Jeremiah and family had migrated there a few years before and started a ranch west of Cochrane (a town west of Calgary ) before moving on to the USA (see Article #8: The TATTERSFIELD (MONTHAN) Family of Arizona, USA).
Just prior to Robert H's 14th birthday on August 9, 1905 Grandfather passed away. This was the turning point in Father's life as he and his older brother Harry had to go out to work to provide for the family, Harry to work for the city of Calgary, and father to find work on the ranches to the south of Calgary. Pictures from father's old trunk, show him breaking horses on a ranch belonging to one John Nelson which was located in the first range of foothills west of Granum, Alberta. According to Mother, that would have been between years 1910 and 1915.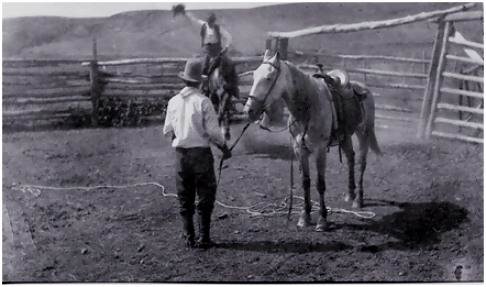 In the fall of 1914, my father, who was riding a semi broke horse, rode to a neighbour's place to borrow a book called Father Lacombe which he wanted to read. As he rode to the house, his horse was startled by a girl and promptly threw him off. The girl found this quite amusing, which did not sit well with my father. The girl, Lola Remington, later became Father's wife and in time related the incident to one of my older sisters.
Now the Remington family dates back to the 16th century and were from Wales. They emigrated to Massachusetts, USA where they used their inventiveness to manufacture smooth bore muskets, later rifled, which led to the Remington Arms Company. Later, Remington offspring travelled west along the Oregon trail (I have a diary of the trek) and settled in Oregon, California and the state of Washington. It was from Anatone, Asotin County, Washington that my Mother's branch of the Remington family trekked to Alberta in a covered wagon around 1909, settling on a 320 acre place west of Granum, thus enabling the meeting between my Mother Lola and my Father. On the 28th of November 1915, Lola and Robert H were married in Calgary, returning to a quarter of land Father had purchased not far from the Remington's home place.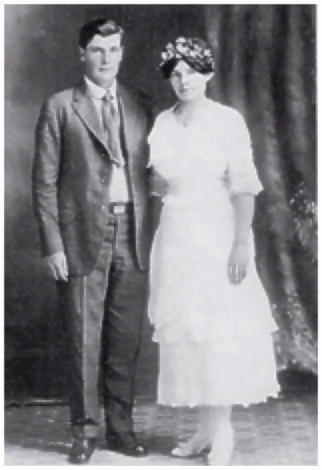 Father and Mother lived in this area where 5 of the 8 girls were born. Sadly, one of the girls caught pneumonia and passed away, aged just 42 days. It came about that Grandmother and brothers Hugh and Monty talked father into returning to Calgary, as it was pointed out that there was a lack of schooling in the foothill area.
At this juncture it may be the time to bring up an interesting bit of information my mother related to the older girls. The information pertained to the question of Grandmother's economic status after Grandfather's passing. As we know, older brother Harry and my father went to work and contributed to expenses, as did the other two boys when they entered the work force. After Mother and Father's marriage (I don't know how long) they were told that Grandmother didn't need further assistance.
Apparently, so the story goes, in Great Grandfather Jeremiah's Will (I have a copy), he stipulated how the business and land holdings were to be handled on his death. It was also stipulated, that should the family partners in the business have problems and wish to get out of the business, that said share of the business would be paid out to them. Now we know from my previous writings here that Grandmother was not too happy with, it seems, the folks back home (a cause for dropping the "Tatters" from the name, although this was never legalized). However, under the law, Will directions had to be carried out. Mother's information indicated that in fact two individuals arrived from England so as to carry out the Will's requests. Mother said they asked if the boys could go back to England to finish being educated, which Grandmother refused. It is not known what else took place, but that was the point at which Grandmother did not require any more funds.
After Father's return to Calgary, he started a dairy on the outskirts of north Calgary, which today is 1 mile west of the international airport and close to the expanded downtown area. He was subjected to a rumour from someone that his dairy herd had TB. He was instructed to ship them for slaughter. It was later proven that the herd had been healthy and the rumour had been started in order that the land could be utilized for other endeavours.
This was in the early stages of the 1930 depression, and Father had also been working part time for the city. At this time the government introduced a deal regarding untitled Government land that could be had. Father applied and was able to obtain a quarter section located 25 miles south west of Calgary. The land was hilly and mostly bush, but the price was right. He started to clear the land by hand cutting the brush with an axe, as well as building a small house for the family. In 1934 he moved the family out of the city.
Most of the land work was done with horses. A small dairy herd was started. The milk was separated and the cans of cream were sold. Eggs from the chickens, along with a few broods of pigs and raised calves, supplied the money to pay off the land and provide operating expenses.
By 1940 the family consisted of 7 girls and 2 boys. School was a one room affair with classes from grade one through nine. One had to either walk the 2.5 miles to school or ride our horses. The curriculum was well taught, despite being a one room school house, and some of the younger sisters even went on to higher education in the city.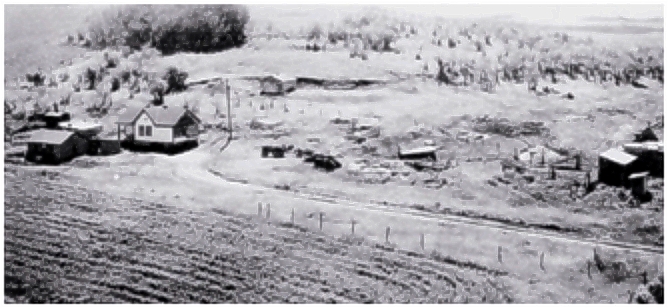 My four oldest sisters married into surrounding families. At harvest time everyone pitched in to help with the threshing, making for a large amount of cooking which was done by mother and my remaining sisters. Two of the remaining sisters married business men and lived in Calgary. The youngest sister married a chap in the Air Force and also settled in Calgary after his tour was over.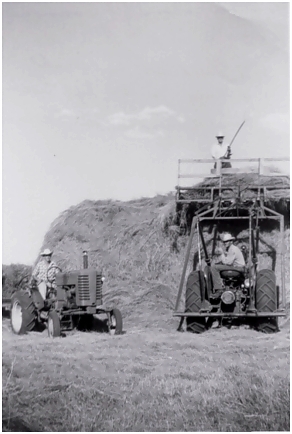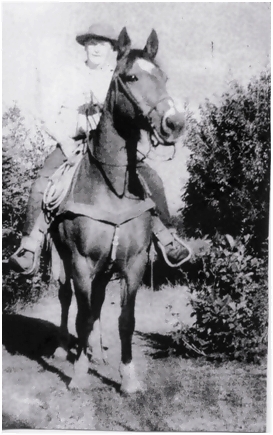 Upper: Haying on the Homestead – Robert H on stack; Robert H Jr on left tractor, brother-in- law on right tractor Lower: Lower: End of an Era – Robert H, aged 73 years, on Queenie.
In 1968 my father passed away from prostate cancer, leaving the working of the farm to Robert H. Jr, my brother. Robert H. Jr. had worked in other agriculture jobs as well as on the farm all his work life, and after the passing of our Mother, he went to work for a ranch where raising polo horses is still the main priority. A nephew took over the agriculture work on the farm. My brother still works for the polo ranch and probably will till his 80th birthday.
As for yours truly, I joined the Canadian Airforce after high school and worked 8 years in the electronics field in radar systems, as well as going to university. At the tender age of 18, I married a lady also in the Air Force. I was too young and on the immature side and subsequently the marriage failed. The positive side however is that we were blessed with two children, a boy and a girl, who grew up to be self sufficient and strong individuals.
On leaving the armed forces I joined an International corporation, rising to positions of management while being involved in national and international assignments.
During this time I had remarried, and we raised three girls. In 2002 my wife was killed in a car accident. It was difficult for a time and in 2003 I retired after 39 years with the corporation. Time goes on, and through my youngest daughter, I met another lady whom I married in the latter part of 2005. She and I moved back west to build up an acreage that was part of the old farm. My four daughters still reside in the east and my son lives not far from us. Who would have thought………
Header Image: Robert Tattersfield (in the white shirt) prepares to mount a horse.  Picture taken on a ranch in Alberta, Canada, in about 1910, and kindly supplied by Robert's grandson, John Field.