Written by John Tattersfield. I am grateful to Mr. John A. Doerner, Chief Historian of Little Bighorn Battlefield, for providing photographs of the cemetery, historical literature and his own expert interpretation of some aspects of the death and burial of THOMAS.
At the time of writing, this is a story with an end, but no beginning!
On 1st October 1873, THOMAS Tattersfield enlisted with the U.S. Army. In his Oath of Enlistment and Allegiance, he gave his age as 22 years and 11 months, his place of birth as "Manchester in the State of England", and his occupation as a Pattern-maker.
Such specific information should lead to his easy identification in England. Not so! No record has yet been found of his birth or baptism, nor has he been found in any census. No sea passage to America has been discovered.The search will go on!
THOMAS enlisted in Pittsburgh, Pennsylvania. He was 5 feet 5 inches high, with blue eyes, light hair and a fair complexion.
It is interesting to note that in many ways he was exactly like JAMES Tattersfield, whose story is given in Article No 11. Both were born about Oct/Nov 1850, and their stated place of birth was Manchester. Both joined the U.S. Cavalry, and their physical descriptions were virtually identical. However, JAMES was a tin-smith. There is no evidence to suggest they were twins.
THOMAS was recruited by 1st Lieutenant R. Norwood of the 2nd U.S. Cavalry. The Enlistment document is held by the National Archives, Washinton, D.C. THOMAS signed the document with an elegant copperplate signature. He enlisted for 5 years. A medical surgeon affirmed that "in my opinion, he is free from all bodily defects and mental infirmity which would, in any way, disqualify him from performing the duties of a soldier". The accompanying Declaration confirmed, inter alia, that he had "neither wife nor child".
Although registered by an officer of the 2nd Cavalry, a later Register of Enlistments shows that THOMAS became a Private in G Company of the famous U.S. 7th Cavalry.
No details have come to hand of the early months of THOMAS' military career in the 7th Cavalry. However, G Company took part in the 1874 Black Hills Expedition. According to a history of the 7 th U.S. Cavalry called "Custer to MacArthur", Troop G and other troops moved into a camp two miles south of Fort Lincoln, Dakota Territory, on 20 June 1874. This was part of a move "to secure a strong foothold in the heart of the Sioux Country, and thereby exercise a controlling influence over the Indian people". The book goes on to say that an expedition was organised at Fort Lincoln in June 1874, "for the purpose of reconnoitering the route from that post to Bear Butte in the Black Hills and to explore the country south, southeast and southwest of that point, and to study the question of establishing army posts to control the Indian. (Lieutenant Colonel George) Custer was detailed to command the expeditionery force, which consisted of ten troops of the Seventh Cavalry…….."
A military document of 1876 gives a physical description of Fort Lincoln, DT. Of the Indians in the region it says, "The nearest Indians are on their reservation at Standing Rock Agency, between 50 and 60 miles from the post.Their number is estimated at 6,000, composed of different bands of Sioux. While rated as friendly, they are more or less constantly engaged, during the summer months, in hostile expeditions".
For THOMAS, a war record of fighting alongside Custer, and, perhaps, dying with him at the Battle of Little Bighorn in June 1876, was not to be. The Muster Roll for Company G for June 1874 records that Private THOMAS Tattersfield "accidentally drowned in Missouri River near Fort A. Lincoln Dakota Territory June 21, 1874, while watering his horse at morning water call".
It will be noticed that THOMAS' drowning was the day after arrival in the new camp. In correspondence, Mr. John A. Doerner, the Chief Historian of Little Bighorn Battlefield has highlighted the dangers of the Missouri River- "treacherous banks with unsuspecting drop-offs and a swift current, especially in the spring and early summer after the snow melt. I suspect that THOMAS may have slipped off the bank into the swift current, and his body recovered some time after……"
THOMAS was interred at Fort Lincoln. Below is a historic photo of Fort Lincoln circa 1875, as kindly supplied by Mr. John Doerner, who has helpfully interpreted the old print as follows: "The area of Camp No. 1 and his drowning is just below the fort below or beyond the far tents. The mighty and treacherous Missouri River is visible on the far left. The stables and enlisted barracks are located on the east (left side of the fort). Officer's Row is on the right or west side of the fort."
Two separate entries in the Record Book of Interments in the Cemetery of Fort Abm Lincoln raise questions. One gives the date of death as 4th Nov, whereas the Muster Roll taken on 30th June had clearly shown that the date of drowning was 21st June. The other says the date of death was "Unknown", and the body was "found drowned in the Missouri River". It seems likely that THOMAS' body was only found and buried some 4 months after his death.
Unclear as the record of his death might be, military records show with clarity that THOMAS was last paid on 30 Apr 1874. Amounts were due to him of $7.41 for clothing and $1.38 for tobacco!
There was public recognition of the death of THOMAS. On July 2, 1874, The Yankton Press and Union and Dakotaian, (Yankton, SD), Issue 13 and 46, col B, under the heading of Territorial Affairs, wrote "The Tribune says Thomas Tatterfield (sic) of Troop G, 7th Cavalry, while watering horses in the Missouri at Ft. Lincoln, was thrown off his horse, kicked, trodden upon and drowned.
Mr. John A. Doerner has also written "Ironically had he lived, THOMAS may have been killed in action at the Little Bighorn as his company suffered heavy casualties during Reno's attack on Sitting Bull's village, timber fight, and subsequent retreat across the Little Bighorn River. His Company Commander Lt. Donald McIntosh was killed during Reno's retreat. 13 enlisted men of Company G were also killed and 6 wounded in the battle".
There is a puzzle concerning THOMAS' military record, in that the Fort Lincoln Interment Lists show THOMAS as having been enlisted on 1 October 1873 at Cincinnatti, Ohio, by Sgt. Kramer. It is not understood why the date agrees with the Oath of Enlistment and Allegiance, but not the place.
Twenty years after his death, the public were reminded of THOMAS. The Bismarck Daily Tribune, (Bismarck ND), on Saturday, June 23, 1894, on page 2, col B, published an article under the heading Twenty Years Ago. Information Gathered from the Files of the Bismarck Tribune of June 24, 1874. Among many other events it included "Thos. Tattersfield, G Troop, Fort Lincoln, thrown while watering his horse at the river, kicked, and finally drowned".
This headstone recording the death of THOMAS stands at the site of his original burial at Fort Abraham Lincoln in North Dakota.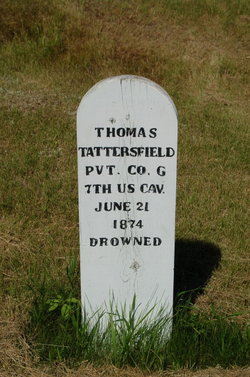 Fort Abraham Lincoln and other northern forts were abandoned in the 1890's. Bodies interred in the fort cemeteries were transferred to the Custer Battlefield National Cemetery at the Little Bighorn Battlefield National Monument.
The remains of THOMAS were re-interred in Sec.A-527 on 6 March 1905. His final resting place is shown below.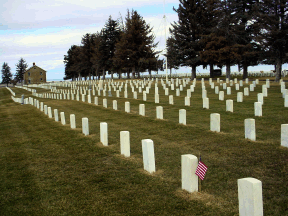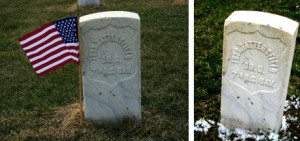 Header Image: The bend on the Missouri River near Fort Abraham Lincoln. It is likely that somewhere along this apparently placid stretch of water Thomas Tattersfield, aged 24, lost his life in 1874.   Bob Pool / Shutterstock.com