By John Tattersfield
Nearly all that is known about George is based on written records. The only family information to come to light is that his many descendants in the Philadelphia area know him as "Starchy George". Alas nobody now seems to know whether this was a comment on his personality or his clothing!
He was from a comfortable background, the 9th (or possibly more) and last child born to Joseph Tattersfield (1779-11 Sept 1851) and Martha (nee Brook) (1780-20 June 1853). The latter seems to have been called "Dame Tatt", but the reason for that is also lost.
Joseph was a blanket manufacturer, and was listed as such in numerous trade directories between 1822 and 1848.
In the 1841 Census, Joseph was described as a Woollen Manufacturer of Kilpin Hill (near the Batley/Heckmondwike border). Martha was with him, and a female servant, but their children seem to have left home, except for the youngest, George, who was 15, and a Woollen Weaver. It looks as though the young boy started at the bottom of his trade and worked his way up.
In 1851 Joseph was still a blanket manufacturer of Kilpin Hill, now employing 16 men and 12 women. At home there were both a female and a male servant.
Joseph was eligible to vote. In 1807 he cast his vote for M (Melbourne perhaps?), and in 1835 and 1848 for the Whig Lord Morpeth.
Joseph is recorded as having made at least 5 land transactions.
In Nov 1803 Joseph was admitted as a member of The Independent Upper Chapel, Heckmondwike. He is recorded as donating £25 towards the building of a new chapel, probably about 1843. He was to become Senior Trustee in later years. Martha was admitted to membership on 3 May 1838.
Joseph was buried in the Chapel graveyard. Sadly he and many others were disinterred a number of years ago, and their tombstones disappeared. However, the details were recorded three times; by Dr. L.W. Ackroyd, by myself, and later by NACRO (National Association for the Care and Resettlement of Offenders), Kirklees. The epitaph of Joseph read "He was a man of integrity and truth, a warm and faithful friend, a kind husband, a tender parent, a man of God, and his end was peace."
Grave Monument of Joseph and Martha Tattersfield
In less that two years Martha joined him. Of her it was written "She lived to do good and was respected by all who knew her. 'Blessed are the dead that die in the Lord. They rest from their labours and their works do follow them'".
Memorial Cards announcing the deaths of Joseph and Martha have kindly been made available by Tammy Lee Hoffman, a Tattersfield descendant, having been kept by her family in Flandreau, S. Dakota.
Memorial Cards of Joseph Tattersfield, 1779-1851, and Martha (nee Brook)
Surely the young George had a good start in life.
At this point it might be helpful to relate George to other Tattersfields whose families are included in this series of Articles. He had an older brother Jeremiah, two of whose sons emigrated (see Article 8 – the Monthan Family, and soon to follow, Article 9 – the Field Family.). Jeremiah had a grandson James Walker Tattersfield, who emigrated to Auckland, New Zealand, as described in Article 3.In Article 5, Joseph Alfred was the great grandson of George. Herbert, whose descendants still live in Leicestershire, was a grandson of George.
The birth of George, on 25 Mar 1822, is recorded in the register of Upper Chapel, Heckmondwike, his parents' place of worship. He was baptised there on 21 Apr 1823.
He married Hannah Walker (1822-16 Mar 1895). She was born in Batley or Heckmondwike, daughter to "Old James" Walker, blanket manufacturer. The Walkers were a very prominent family in the area, and at least four marriages with the Tattersfields are known. The marriage was on 20 Dec 1848 in Upper Chapel, Heckmondwike. George, age 26, was a described as a blanket manufacturer. He and Hannah both signed their names. Many could not do so in those days.
Hannah (nee Walker) and "Starchy" George Tattersfield.
Photographs kindly supplied by James Peyton Tattersfield, whose ancestry is Joseph | Joseph | George | James Walker | James Edward | James Peyton Sr. Peyton lives in Mexico, where his father immigrated about 1930.
In 1851 George and Hannah were together at Kilpin Hill, with their first child, Joseph ( my great grandfather), aged 1. There was one female servant.
Subsequent censuses and a directory show the expansion of George's family, and also of his work force.
By 1861 the couple had moved away from Kilpin Hill to Brickhouse, Newtown, Mirfield, only some 3-4 miles away. The two eldest boys, Joseph and James, were away at the nearby Wellhouse Boarding School, in Mirfield. The next three children were with George and Hannah, the most recent, Percival, being 11 months old. George's workforce now numbered 50 men, 70 female and boys.
A directory of Mirfield for 1866 lists George Tattersfield, Spring Place Mills, and Tattersfield Howgate & Co, Oakland Mill (the Tattersfield is George).
The London Gazette for Oct 26 1869 announced the dissolution, on 30 September 1869, of the Partnership between George Tattersfield and Thomas Howgate, which had carried on business at Oakland Mills in Mirfield and Bradford Road, under the name Tattersfield, Howgate and Company, Woollen Manufacturers. The business was to be carried on by George as George Tattersfield and Company, to whom all debts due to or owing from the Firm were to be sent.
In 1871 the family were still at Brick House, Mirfield, the last child Emily, being six. As always, there was a female servant in the household.
On 18 July 1872 the Witney Express and Oxfordshire and Midland Counties Herald reported "A serious fire has occurred at the woollen manufactory belonging to Messrs George Tattersfield and Sons of Ravensthorpe, near Dewsbury. The damage is said to be about £3,000."
In 1881 the family now lived at Dunbottle in Mirfield. (This is taken to mean Dunbottle House, rather than Dunbottle Street). As ten years before, the two eldest sons were away, with five children at home. George seems to have reached his business peak, with a workforce of "250 hands". This fact seems rather surprising in light of the events recounted below. In 1873 it is recorded that George's land rent brought in £1,542-19-0.
George was on the Polling Register in 1859 and 1868. Which way he voted has not been found, but the family, both before and after, seem to have been Liberal. As a slight digression, Sir Ronald Walker (1880-1971), who was the son of Hannah's brother John Eli Walker, was not only chairman of the family firm James Walker & Sons Ltd., Mirfield, but also, in 1932, Chairman of the Central National Executive of the Liberal Party. He had previously held many posts in the party, and been a parliamentary candidate.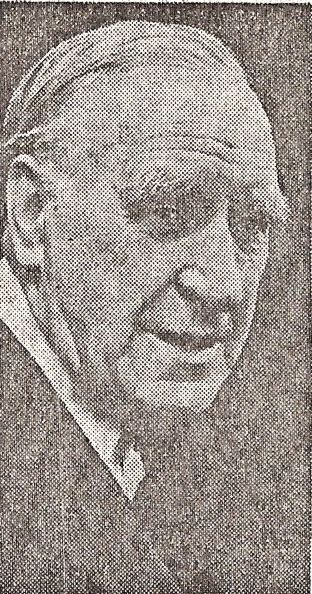 Sir Ronald Walker, 1880-1971
All that had gone before looks like a logical progression up the ladder to wealth and status. What was to follow might have been the inspiration of Charles Dickens' "Jarndice v Jarndice".
The later part of George's business life can best be recounted by direct quotations from The Dewsbury Reporter.
18 May 1878. FAILURE OF A RAVENSTHORPE FIRM. LIABILITIES £80,000.

On Tuesday evening, Messrs G. Tattersfield & Co.,blanket and woollen manufacturers, Ravensthorpe, Mirfield, filed a petition in the Dewsbury County Court for the liquidation of their affairs. The liabilities of the firm amount to about £80,000, but the bulk of the creditors are secured. To the unsecured creditors is owing some £40,000.
It has been known for some time that the debtors have been in difficulties. The recent failure of Sir Charles Firth, of Heckmondwike, has had much to do in hastening this catastrophe. The creditors mostly carry on business in Dewsbury, Huddersfield, Batley, Mirfield, Leeds, Bradford, Manchester and London.
The persons composing the firm are George Tattersfield, of Spring Place Mills, Ravensthorpe, blanket manufacturer, and James Walker Tattersfield, of Oaklands Mill, in the same village, woollen manufacturer. Messrs. Chadwick and Sons, of Dewsbury, are the debtors' solicitors, and Mr. J.D.Good, accountant, is the receiver to the estate.
James Walker Tattersfield, referred to above, was the second son of George and Hannah.
As the business failure of Sir Charles Firth was a prime reason for that of George Tattersfield, some details of the former are set out below, selectively extracted from the account in the Leeds Mercury dated Saturday April 6, 1878.
A meeting of the creditors of Sir Charles H. Firth, Knight, of Flush, near Heckmondwike, was held yesterday…..at Leeds…… Mr Chadwick, solicitor, Dewsbury, represented Mr. Geo. Tattersfield, Mirfield………For many years he, (Sir Charles Firth) had been concerned with various foreign Governments, and at the end of last year had the misfortune to get a contract from the Government of Egypt for 10000 topcoats. The agent of that Government in England was Colonel Bernardi, from whom the contract was obtained. Sir Charles, of course, hoped his affairs might proceed smoothly, that he might, by obtaining large foreign contracts, make his position good, and that he might in the end pay off the whole of his old debts. Unfortunately, however, the reverse proved to be the case. He might say that Sir Charles did not make the cloth himself for the topcoats. It was made by Mr. Tattersfield, Mirfield, and Messrs Sheard, Batley: and Messrs Barran and Son, Leeds, and Hibberts and Co, London, made the coats. Unfortunately Colonel Bernardi did not examine the cloth before it was made into coats. The consequence was that a large number of the coats were made; that Colonel Bernardi only passed a small number of them; and that Sir Charles now had a great many of them on his hands. The receiver had called upon Colonel Bernardi to request him to refer the case to arbitration. Colonel Bernardi had communicated with his Government, and had not yet heard whether the case could be heard or not. However, it appeared quite clear that these coats were made according to contract, and that their rejection by Colonel Bernardi was from various causes which need not be mentioned. The war in Turkey was now over for the time, the Eastern Governments were very hard up for money, and it was feared that there might be a great loss on the contract. They were confident that if the case had been referred to arbitration-assuming that the Khedive could discharge the debt- that there would have been a handsome profit on the coats ultimately. This, of course, was extremely vague, and they could not rely on the coats to form a basis for a composition. He might say that the coat business was the primary cause of Sir Charles's failure.
1 June 1878. Re GEORGE TATTERSFIELD & Co.

At a preliminary meeting of the creditors of this firm, held on Wednesday, at the offices of Messrs. Chadwick and Sons, solicitors, Dewsbury, it was resolved to recommend the acceptance of a composition of fifteen shillings in the pound, payment to be spread over two years.
22 June 1878. Re GEORGE TATTERSFIELD & Co., MANUFACTURERS.

Yesterday, a meeting of the creditors of this firm, and also of the separate estate of George Tattersfield, took place at the Royal Hotel, Dewsbury, Mr. George Clay being in the chair. It was the second general meeting in each case, and the creditors resolved to accept an offer of a composition of 13s.4d. in the pound payable by instalments-viz., at 6, 12, 18 and 24 months
A bankruptcy on this scale had international interest. On Friday 17 May 1878, the Petersburg Index-Appeal of Petersburg, Virginia, reported " A HEAVY FAILURE-FINANCIAL MATTERS. LONDON, May 16-Tattersfield & Co., woollen manufacturers at Ravensthorpe, have failed for 80,000 pounds sterling."
So far the bankruptcy may appear to be straight forward. However:-
9 Nov 1878. IMPORTANT MOTION IN BANKRUPTCY.

On Thursday, at the Dewsbury County Court, before the Judge (J.W. de Longueville Giffard, Esq.), Mr. Pullan, solicitor, of Leeds, applied by way of motion on behalf of Marcus Benjamin Schumann, commission agent, of Leeds, for the admission of a proof against the estate of Messrs. George Tattersfield and Co., of Ravensthorpe. Mr. West. Barrister, of Leeds (instructed by Messrs. Chadwick and Sons, of Dewsbury), appeared on behalf of the trustee, Mr. J.D. Good.

It appeared that in the month of April, 1877, Messrs. Tattersfield were wanting to make a payment, and, in order to procure the money, they entered into negotiations with a firm carrying on business in Paris as Goodman and Son. They waited upon Mr. Schumann on the 4th of April, 1877, and produced two bills of exchange, one for £1,000, and the other for £1,200. The bills were both dated on the 4th of April, and were both drawn by George Tattersfield and Co. on Messrs. Goodman and Son, Paris. Mr. Geo. Tattersfield waited upon Mr. Schumann and asked him to discount these bills for him, and he would give him an additional commission. Under exceeding pressure Schumann gave a cheque for £2075 6s. 8d. On the bills being presented to Messrs. Goodman and Son, the transaction not being of a satisfactory description they simply declined to accept the bills.
That was the nub of the problem, but in the account of the trial there was much much more! Schumann was examined, as were James Walker Tattersfield, and his younger brother George Henry. The two had jointly dealt with Schumann. The judge reserved his decision, and the court reconvened four weeks later.
The judge began by saying "The facts, which are of a singular character, are as follows." He then recounted every detail of the case, at great length, concluding with "I can, on the whole case, come to no other conclusion than that it was not intended, from the first, that these bills were to be accepted by Goodman, and the whole was a plan to defraud the vendor (ie George Tattersfield and Co.) of his property by means of this juggle between Schumann and Goodman, and all I can do to show my disapproval of the course taken by the alleged creditor is to refuse the motion, and to refuse it with costs."
Definitely Round 1 to George!
BUT…on 1 February 1879, the Dewsbury Reporter wrote:
LOCAL BANKRUPTCY APPEALS. LONDON BANKRUPTCY COURT. Before Sir James Bacon, Chief Judge. Re TATTERSFIELD EX PARTE SCHUMANN.
Schumann appealed against the judgement of the Dewsbury Court. This time both parties were represented by QCs. The whole saga was described again in detail. After that "The remainder of the sitting was occupied in reading the evidence given in the Dewsbury County Court, and at the conclusion of the reading the hearing was adjourned till Monday next".
On the following Monday the QCs for the trustee of George Tattersfield and Co replied to Schumann's argument. Sir James began his judgement by saying that the case was perfectly clear. At first he felt some difficulty in the matter, because there were circumstances of great suspicion. The creditor claimed to prove as a holder of a bill of exchange for which he had paid £2,200. The £2,200 was given for the purchase of a bill drawn by Tattersfield and intended to be accepted by Goodman, but the bill never having been accepted by Goodman, he had paid his money for a consideration that had failed. It had been said that the question turned upon the bill having been endorsed by Tattersfield "without recourse", but that could only have reference to Tattersfield as the endorser and not as the drawer, and did not release him from liability in that respect………Even if it had been obtained by conspiracy, he (the learned judge) was not at liberty to deal with it………He thought that the appellant (Schumann) was entitled to succeed …….. The appeal was consequently affirmed with costs.
Round 2 to Schumann.
But George, or somebody representing him, did not give up easily. We read in The Dewsbury Reporter on 17 May 1879:-
THE HIGH COURT OF JUSTICE. HIGH COURT OF APPEAL. Before Lords Justices JAMES, BRETT and COTTON. Re TATTERSFIELD EX PARTE GOOD.
This was an appeal against the decision of Sir James Bacon, the Chief Judge, reversing the decision of the Judge of the Dewsbury County Court, and admitting the proof of Messrs. Schumann Bros. of Leeds, against the estate for the sum of £2,101 16s.
The argument between the QCs and, indeed, with the Law Lords, is recorded in excruciating detail and must have seemed to last an eternity. No holds were barred. Early in the proceedings Lord Justice Brett observed that he very much doubted the fact of a Roumanian (sic) firm trading as Goodman and Son. There was no evidence in the proceedings to show that such a firm ever existed.
Later on Lord Justice Brett interrupted Mr. Winslow, QC for Schumann, by saying it was clear that the evidence of Schumann and Dr. Woolf, a witness called on his behalf, could not be believed for one moment. Mr. Winslow replied "Very well. If your lordship decides the case before hearing the arguments I have nothing to do but throw up my brief." Lord Justice James said he had no wish to stop the argument, but the case was so clearly one of fraud that it would be useless to take any further time.
Lord Justice Cotton weighed in with "So far as it depends on the credibility of the evidence of Schumann, I quite agree with what has been said by the rest of the court, that so far as it depends on his evidence, we cannot place any credit upon his evidence whatever." Later he added "So far as it depends on the evidence of Schumann, I say no possible reliance can be placed on his evidence …..I should say that it was a mere sham, and that Goodman was interposed as a dummy by Schumann. Goodman has never been produced here. Of Goodman we know nothing really, because there is no evidence about what he was except that Schumann says he believes he was a Roumanian, sending all manner of goods from Paris over to him (Schumann) from woollen goods to diamonds. That he was the real purchaser in this case I do not believe at all…."
At the conclusion, Mr. Horton Smith, QC for Mr. Good, the trustee of George Tattersfield and Co, summed up "Then your Lordship will reverse the order of the Chief Judge and give us the costs both here and below." Lord Justice James replied "Yes".
Round 3 to George on a knock out!
But all of this court action, dramatic as it was, was only a side show.
On 18 June 1879 two creditors of George Tattersfield and Co. took the firm again to the County Court in Dewsbury. The first instalment of the composition of 13s.4d. in the pound, agreed on 22 June 1878 had, indeed, been paid, but now the firm was unable to pay the second. One debtor in particular, The London and Yorkshire Bank, requested the Company be liquidated to meet a debt they claimed was due. The matter was referred to a London accountant to verify the figures.
However, readers of the Reporter on Saturday 12 July 1879 were told:-
Re GEORGE TATTERSFIELD & Co.

Our readers will be sorry to learn this firm, which has lately been working under a committee of inspection, have now to liquidate, as the debtors are unable to pay the composition offered. This is much to be regretted, especially as a large number of workpeople will be thrown out of employment if the mills are stopped, and the committee have resolved to close the works immediately the material is worked up. Mr. J.D. Good has issued the following circular on behalf of the committee:- "In consequence of the inability of Mr. George Tattersfield to provide for the dividend bills accepted by him, in pursuance of the special resolution of creditors passed on the Twenty-first day of June, 1878, and falling due on the Fourth day of July instant; and also by reason of the refusal of certain creditors to acquiesce in an extension of the time for paying the dividend of 13s. 4d. in the pound, provided for by the said special resolution; and also by reason of other unforeseen difficulties and circumstances that have arisen, the committee of inspection have come to the opinion that it would be for the interest of the creditors of Mr. George Tattersfield that his business should no longer be carried on; and they have accordingly resolved to close the same, and to liquidate the estate…."
Where did this leave George and Hannah?
Although the liquidation was in July 1879, we have already noted that the 1881 Census showed George was still employing 250 people, an anomaly difficult to explain. He seems to have changed house fairly frequently. He and Hannah had lived at Brick House, Mirfield in 1871. There is a House of Commons Brit Sessional Paper of 1874 which gives his address as Heaton Lodge, a fine stone house, still in use, some 2 miles west of Mirfield. A hand-written paper from the Sykes Collection held by Leeds Local Study Library, also places George in Heaton Lodge. By 1881 the pair were at Dunbottle, Mirfield, and at Bankside House in 1887, where George died on 5 July of that year.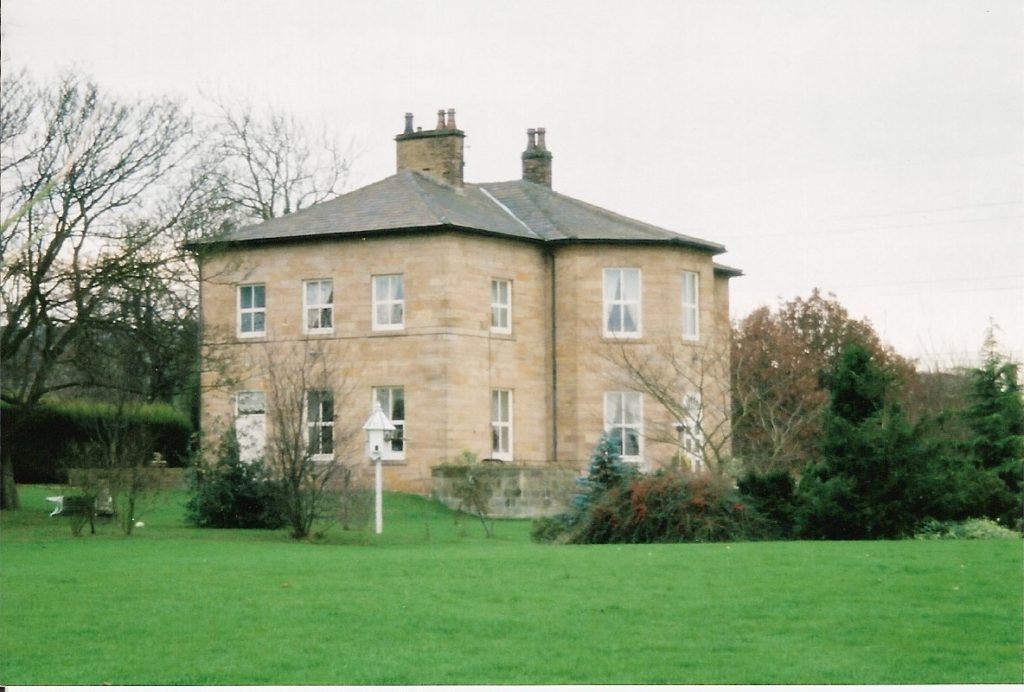 Heaton Lodge, near Mirfield
The fact that he lived ten years after his estate and his business were liquidated, suggests he was robust enough to have got over the experience. Hannah survived him by nearly 8 years, and died on 16 Mar 1895. In the 1891 Census she had been the head of the house, living on her own means at 10 Denby Villas, Knowle Road, Mirfield. That is where she died. It is not known where they were buried.
In his will, signed on 24 June 1887, just eleven days before his death, George bequeathed all his estate to go to Hannah. It amounted to £2,317 18s.7d.gross, £392 5s.4d.net; a modest amount in light of his early business success. Hannah in her turn left £1,197 5s.0d.to her children and grandchildren.
One memento of Hannah still exists. Peter James, a great great grandson, has a Bible inscribed "Joseph Stanley Tattersfield. A present from his grandmamma Tattersfield. November 12th 1877. With love & Best Wishes." Rather a heavy present, as the date was Stanley's 1st birthday.!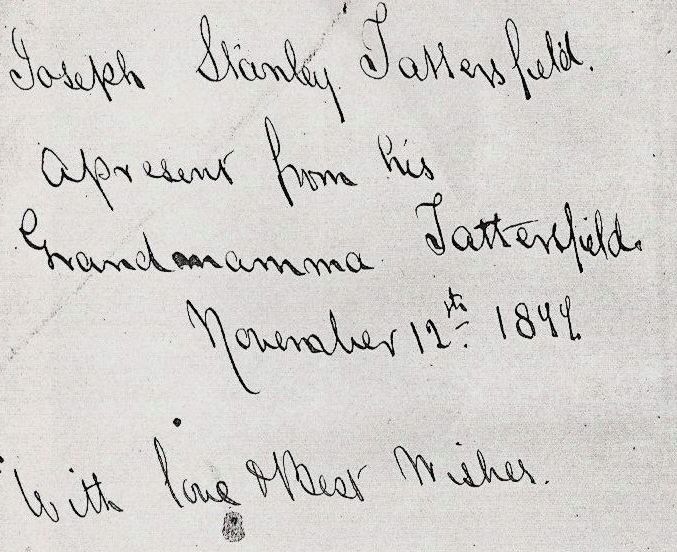 Bible Inscribed by Hannah Tattersfield
And what became of George's and Hannah's family?
The eldest, Joseph, married Betsy Pickering. They had five sons, the second being my grandfather Charles Pickering Tattersfield, and five daughters. Two of the sons, the eldest George Arthur and the third Joseph Stanley, went to Philadelphia to join their uncles James and Percival in Tattersfield & Co. In due course each became President of the Company. There are numerous descendants in England and in America. Joseph died in South Street, Savile Town, Dewsbury in 1920. Joseph and Hannah's fifth child was Herbert, who moved to Leicester. His descendants are described in the article above, entitled The Leicestershire Tattersfields.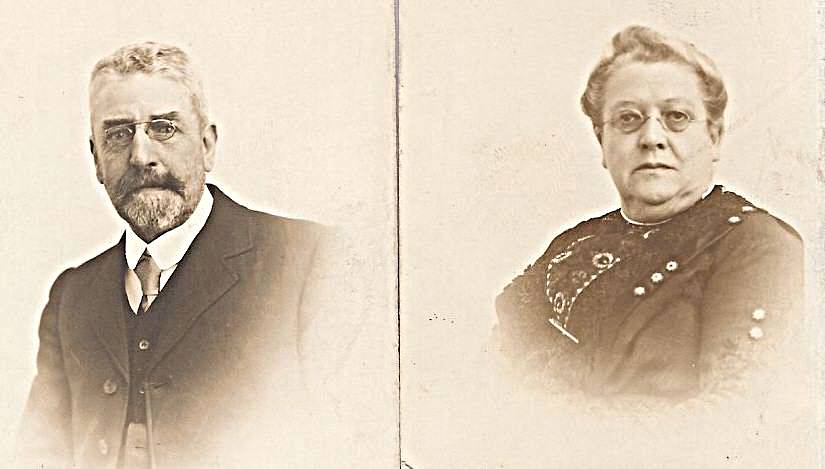 Joseph Tattersfield, 1849-1920, and Betsy (nee Pickering)
George's second son, James Walker, who was in bankruptcy proceedings with his father, married Arabella Hemingway, and emigrated to Philadelphia about 1882. There he set up Tattersfield & Co, together with his younger brother Percival. James and Arabella had two sons and four daughters. Only two of the six married, and one of those had no children. The unmarried four lived together, and were known as "The Talking Tatts." With good reason! I visited them in 1957. Each could hold a conversation, and correct the others at the same time! Only one son had a family, of two boys and a girl. The elder son went to Mexico about 1933, and started a family there. There are many descendants today in Mexico and USA.
George and Hannah's third child, Constance, married Malcolm McCulloch Paterson, a civil engineer, and had three sons and a daughter.
Next was George Henry, who had been in business with his father and brother. Once again the Dewsbury Reporter comes to our aid. On 12 Aug 1899 there was a heading "MR.G.H. TATTERSFIELD'S BANKRUPTCY." George Henry had previously lived at Thornleigh House, Mirfield. He had commenced business in 1882 as a rug maker with about £50 capital. He later carried on business as a blanket and rug manufacturer at Spring Place Mills, bought in 1890, and Bankfield Mills, bought in 1886. The former had belonged to his father George. On 28 Sept 1897 he himself petitioned for a receiving order. A trustee was appointed and public examinations went on until 4 Jan 1898.The liabilities were estimated at £18,297 10s.9d., and the non-assigned assets £8,490 11s.5d. On 9 Aug 1899 George Henry applied to the Dewsbury Crown Court for discharge from bankruptcy. There was lengthy presentation of facts and figures, and the official receiver said George Henry had not kept "such books of account as are usual and proper in the business carried on by him, and as to sufficiently disclose his business transactions and financial position…. The bankrupt's conduct during the proceeding under his bankruptcy had been satisfactory." A petition was presented, signed by creditors representing a total liability of £19,000, asking that the bankrupt should be leniently dealt with. Evidently business in Victorian England did have a human side. An order of discharge in two years was granted.
George Henry married Gertrude Tolhurst, believed to be from a diamond merchant family, in London. They had one son. On her death her estate was modest at £111 13s.10d.
George and Hannah had a daughter Sarah Jane, who died aged one. The next child was Percival. He emigrated to the USA on 23 April, 1884. Later he joined older brother James Walker in Tattersfield & Co., Philadelphia. He married Katherine Zenaida Bary, said to be of White Russian parentage. They had a son and unmarried daughter. There was only one grand-daughter, Shirley, who was a notable artist in Philadelphia, and who died on 17 May 2007.
Lucy was the next child. She married Montague Goodall, whose firm were wholesale stationers and playing card manufacturers in London. It is not known how they came to meet. They had four sons and one daughter.
Last in the family was Emily, who never married. She wrote a published book of children's poems, and died in 1932, in Knaresborough, Yorkshire.
I am grateful to Jane Helliwell, lately of Dewsbury Library, who has kindly sent me newspaper cuttings about Tattersfields, whenever she has come across them.
I would also like to thank Carol Hendrickson, a Tattersfield descendent who lives in Florida, for providing many photographs of tombstones, which she took in 1988.
It is very much hoped that readers will make contact suggesting any corrections or additions to these accounts. In particular, descendants of George and Hannah might feel moved to write their own account of their branch of the family, which we will be most happy to include in this series of articles.
John Tattersfield November 17th 2007
Header Image: A photograph of George Tattersfield (1822-1887), taken from a family collection, and enhanced to emphasize the impression of how he appeared in early middle age.