This brief biography of Thomas Wilkinson has been kindly contributed by Mr. Trevor James, who lived in York for almost 30 years, and recently moved to Scotland. Nearly 20 years ago, Trevor was asked to locate the house where Thomas had lived, in order to have a commemorative "Blue Plaque" put up. Additionally Trevor was asked to find any living descendants of Thomas, so they could attend a re-dedication of his gravesite in York Cemetery. Trevor has been studying the life and family of Thomas ever since, and continues to do so.
Thomas was born in early November, 1831, in Marygate, York, the second son and second child of John and Ann (LITTLEWOOD) WILKINSON. Ann Littlewood was the sister of Margaret Littlewood, the second wife of Richard TATTERSFIELD. Thomas was baptised on 4th December, 1831 at St. Olave's church, Marygate, York. Thomas Wilkinson was thus first cousin to the brothers JOHN and THOMAS TATTERSFIELD, whose military careers are briefly described above. They lived nearby in York, and they would all certainly have known each other. However, the contrast between their military careers is stark–Thomas Wilkinson winning the VC at Sevastopol, and his cousins both leaving their military service prematurely on account of severe medical problems.
In November, 1850 Thomas, as a labourer, signed up to serve for 12 years in the Royal Marines, and in February, 1851, he was assigned as Gunner in the Royal Marine Artillery (RMA). He was then posted to HMS Britannia, in which he served until October 1854, when he was landed at Balaklava, to participate in the Crimean War.
Thomas was at the siege of Sevastopol on 7th June, 1855. His gun battery had been protected by 'embrasures' (wicker baskets filled with stones and earth, and sandbags). These had received a direct hit, exposing his gun to artillery and rifle fire. His citation reads,
Wilkinson attracted the attention of the officer commanding the Artillery in the right attack by his gallantry in repairing the parapet with sand bags under a galling fire.
Other sources say that he continued this work for half an hour. There is no mention of his being wounded during this or any other time in the Crimea.
Thomas sailed from Balaklava in October, 1855, disembarking at Portsmouth on 5th December. He was immediately promoted to Bombardier and his VC citation appeared, mentioned in the 'London Gazette' in February, 1856. He received his VC in June 1856, along with its pension of ten pounds per year, payable quarterly.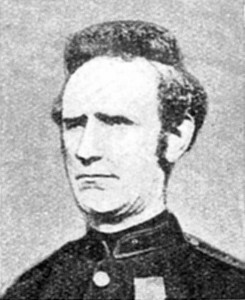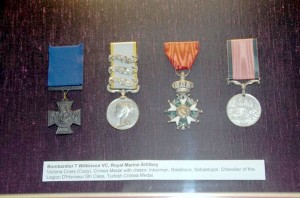 On 14th August, 1859, in Portsmouth, he married Elizabeth, the daughter of Charles HOLMES, a horse dealer of Itchen Abbas, near Winchester. At around the same time, Thomas injured his leg. According to his service records, the injury was "occasioned in, but not by, the service." The injury cannot have healed satisfactorily as on 12th October, 1859 he was invalided out of the RMA.
He returned to York with his wife at once, as he had stated he wished to join the 2nd West York Militia, as a Private. By joining directly from the Marines, he was allowed to retain his RMA uniform.
His wife died on 9 June 1860, a victim of pulmonary tuberculosis ('phthisis'). Not surprisingly, there were no children of this marriage. He remarried on 15 Aug 1868 to Mary Ann LOLLEY, daughter of John & Ann. There were no children born of this marriage either.
After working as a labourer since his first wife's death, he moved to a sandyard on North St, York, on the bank of the River Ouse. and soon became foreman/manager in the business, a position he held through a number of changes of ownership.
His mother, Ann (LITTLEWOOD) WILKINSON died 19 August 1879, just after the marriage of Thomas's sister, Ann, leaving Thomas, his wife Mary Ann, and his elder, unmarried brother John in the house. Thomas's VC pension would have just about covered their rent. His brother, John, died on 29 Nov 1881.
Ann WILKINSON had had an illegitimate child, Charles, in 1852 but he had died of smallpox on 17 May 1872. Ann's marriage, at 46 years old, to William MELLOR, produced no children, unsurprisingly. Ann died, separated from William, in Hunslet, Leeds, on 11 March 1900. With her death, this WILKINSON family died out.
Thomas WILKINSON died on 22 September 1887; cause of death "Enlarged spleen, diarrhea and exhaustion". After a funeral attended by full military honours, with the cortege preceded by a Military Band, he was buried in a public grave in York Cemetery. "Thousands lined the streets", reported a local newspaper. Sometime between his death and 1892, the officers of the RMA arranged for a very substantial and ornate gravestone to be erected to his honour.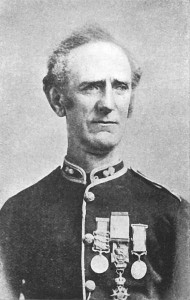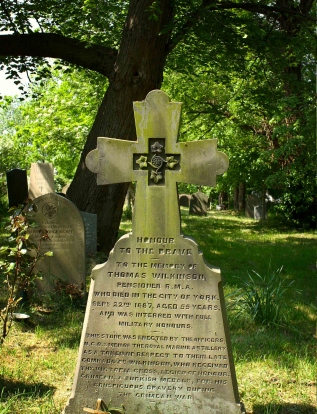 The gravestone of Thomas, shown above, is itself remarkable. The design is such that, if looked at upside down, it closely resembles the VC, hanging on its ribbon. It must surely be unique that such a fine headstone, following a funeral with band, escort and full military honours, adorns a public, or "pauper's" grave.
Mary Ann WILKINSON died, of an alcohol-related incident, on 23 April 1888. He had bequeathed everything, including his medals (Victoria Cross, Legion of Honour, 5th Class, British Crimean Medal, Turkish Crimean Medal) to his wife but his Will had not been proved when she died, so all went ultimately to Mary Ann's sister, Elizabeth (LOLLEY) HARTLEY, wife of William.
There are no descendants today of Thomas or his two siblings.Eventually, his medals were bought at auction in 1918 by the officers of the RMA and they can now be viewed in the Medal Room at the Royal Marines Museum, Eastney, Southsea, Hants., together with the VC's of the other nine Royal Marine awardees.
A small remembrance service is held at his graveside annually, in June.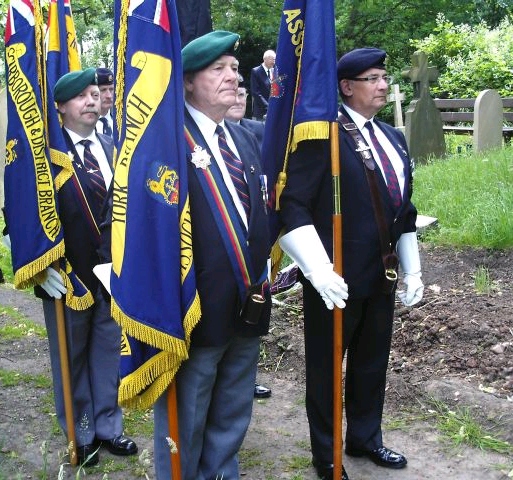 Header Image: A portrait of Gunner Thomas Wilkingson, VC, by artist Percy Beer (active 1961-1962), in the collection of the Royal Marines Museum. The portrait is superimposed on an image of the ribbon that is used with the Victoria Cross.
  © Royal Marines Museum.  Photo credit: Royal Marines Museum. Creative Commons  (CC BY-NC-ND)