John was unusual in that he took part in two different wars.
He was the seventh of nine children of William Tattersfield and Eliza Ann nee Saxon, who married at St. Luke's Church, Heywood, Bury, Lancashire, on 4 Aug 1873. Of the nine children, the eldest died unmarried at 25, John William lived to be 41, his youngest sister was married at 22, and the other six all died before they were two years old, including twins, both of whom died before they were four months old. Such was life in those days.
John William was born on 31 Jan 1880 in Heywood. He was with his parents in the Censuses of 1881 and 1891. In the latter , aged 11, he was already working as a "doffer(?) cotton".
On 31 Jan 1900, his 20th birthday, he enlisted at Bury in the First Volunteer Battalion, The Lancashire Fusiliers. His grand daughter, Vera Lord, has kindly provided the photograph below, with John William in the centre in uniform. It is speculated the photograph might have been taken about 1900, soon after he enlisted. One of those with him might have been his brother Ellis, who died early in 1900.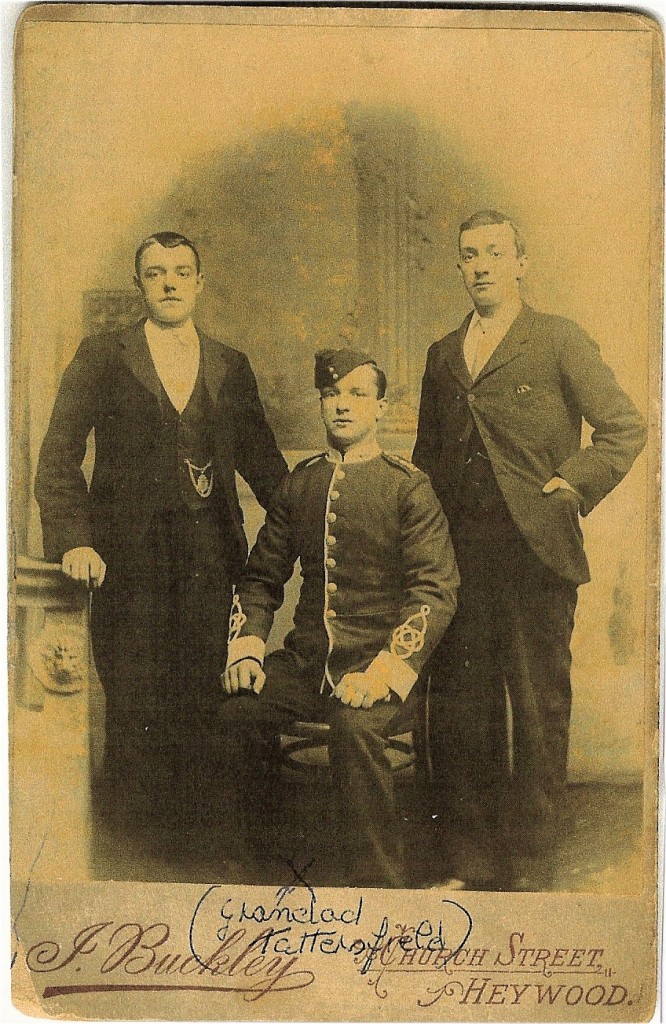 JOHN WILLIAM signed the Attestation document on 31 Jan 1900 for a Short Service of "One Year with the Colours". He was aged 20, had a fresh complexion, brown eyes and light brown hair, height 5′ 3 1/2″, chest 34″/35″. He described himself as a farrier, religion was C.of E., weight 122 lbs., and he had "No Marks". His Next of Kin was his Father, Wm. Tattersfield, of 20 Smith Street, Heywood.
Having "Attested" at Bury with the Lancashire Fusiliers on 31 Jan 1900, he was "Transferred" to A Reserve on 1 Feb 1900. After his year had expired he and six others from Heywood were called to Bury for examination of their fitness to serve in South Africa. John William was "Recalled to Arms Service" with the Lancashire Fusiliers on 9 Feb 1901.
On 28th February 1901, a smoking concert was held in the Central Conservative club, Heywood. It was "to give a send-off to Privates J.W. Tattersfield, F. Dauber, and J. Whitby, three members of the club, who are among the Heywood Volunteers for active service. The Mayor, Councillor Popple, presided. …….The Mayor gave the health of the King and Queen, and the toast was duly drunk with musical honours. After his Worship had briefly referred to the death of the Queen and spoken of the good example she had set to her successor.
The Mayor said he had a pleasing duty to perform. He wished them to drink the health of their three fellow-members; in fact the whole of the Volunteers who were going to the front (Hear, hear). The meeting had been hurriedly called to give them a little send-off."
The Mayor spoke glowingly about the army in South Africa, " who had shown that they were made of the right stuff. And he believed that these three young fellows would do the same."
"He had had the pleasure that day of signing a cheque for the insurance of the Volunteers for a hundred pounds each, and while they all hoped there would be no need to draw that amount, there was the possibility they might not come back."
He then presented to each of the three Volunteers a sovereign and a knife and fork.
"Private Tattersfield was warmly greeted on rising to respond. He thanked the members for the presents they had kindly given them, but he said ' I can fight better than I can talk' (Laughter and applause). They had only done what everybody ought to do; they had done their duty as everybody should do who could use a rifle (Hear, hear). They would have to endure hardships, no doubt, and have to face difficulties, but they must think of the people at home. He thought they would all do their duty, and if they were shot: well that would have to be. (Laughter and applause). They would do their duty as British soldiers ought to do; obey their officers and maintain discipline; and when they were called upon to do some duty they would 'fall in' and do it like men. They would go away with good feelings towards all, and think of all their friends at home. (Applause). 'I wish you all good health' said Private Tattersfield, while we are away and the same to us. (Applause)."
John William was then posted to South Africa, to fight in the Boer War, on 16 March 1901.
In the Heywood Advertiser of 11 October 1901, the following letter is printed from their correspondent:-
" Today I was pleased to receive a letter from a local Volunteer, who left Heywood since I did. I quote the following extract from it:-
QUOTE. Pan Station, Eastern Transvaal, August 20th.
Friend. -I feel it my duty to write a few lines to you as I a fellow townsman, and we are both working for one thing, that is, peace in this country…….my name is Tattersfield………and I belong to the Second Volunteer Service Company …….the way I got to know your directions was by seeing one of your letters in the 'Advertiser' of July 20th. I showed it to several of the regulars, and everyone said that they were the most sensible letters they had read to be sent from this country ……..Now to a bit about the Volunteers. We are with the regiment on the lines of communication. All the line from outside Middleberg to a place called Drimanutha is guarded by our regiment, a distance of between 40 and 50 miles. The majority of the men are in blockhouses along the line. I had a month in one, and I consider them a good defence from the enemy. People at home say 'Oh, they are only on the line'. True, we are not actually fighting, but we are keeping them from crossing the line, and keep commandoes on either side of the line from joining one another. The men in the blockhouses have had many an attack, but they have always driven them off.–I remain, yours, No 8857 Private J.TATTERSFIELD. M Company , 2nd Lancashire Fusiliers. '
UNQUOTE
Perhaps this letter of his to me will be interesting to his comrades at home who have already returned from the seat of war to a well-earned rest."
John William was "Discharged on Termination of Engagement" on 30 Sept. 1902 and was paid a War Gratuity of £5 on 12 Nov 1902. His total service had lasted 2 years 243 days."
His original Regimental Number was 8857. He was awarded the Queen's South Africa Medal with the following clasps:- Cape Colony, Orange Free State, Transvaal, South Africa 1901 and South Africa 1902.
After the Boer War he was discharged in South Africa, and apparently chose to remain there initially.
Despite his apparent decision to stay on in South Africa, he was back in England on 11 Jan 1903, when he married Sarah Ann Bridge in St. Mark's Parish Church, Bury. They were to have five children between 1904 and 1917. His Marriage Certificate described him as a cloth finisher, and his wife a cotton operator.
Soon after the start of The Great War, John William enlisted again in The Lancashire Fusiliers on 4 Sept 1914. For a time he was a Sergeant, Number 2234. It is unlikely that in 1914, 14 years after his first enlistment, he would have been on any reserve. It is likely that his joining up was voluntary, rather than from an obligation. He was later promoted to Colour Sergeant, and given Number 200541, and served overseas. He was awarded the Victory and British (?) Medals, the 1915 Star and Silver War Badge (SWB), the last on 20 May 1920, when he had been in an Asylum some six weeks. Did he ever know he had received the medal?
John William's precise involvement in the First World war is not known, but his 1/5 Battalion of Territorials were heavily engaged. He joined on 4th September 1914, when the Battalion were stationed at Castle Armoury, Bury. They moved to nearby Turton. They formed part of the 42nd East Lancashire Division, which was the first Territorial Force to move overseas. Almost immediately, on 9th September, they mobilised for war and embarked from Southampton. On 25th September they arrived at Alexandria, Egypt, to defend the Suez canal from Turkish forces which were massed in Palestine. Various units of the East Lancashire Division were engaged in defending against the Turk attack on 3rd February 1915.
On 5 May 1915 they landed at Cape Helles, Gallipoli, and the Division engaged in various actions, including the Battle of Krithia Vineyard.
The Heywood Advertiser of 23 July 1915, under the heading "DARDANELLES FIGHTING—More Local Casualties—Latest Heywood and Bury Lists" includes the name of Lance Cpl J.W. Tattersfield (2234). It is not known how John William was wounded, or for how long it kept him out of the fighting.
On 28 December 1915 the Division were evacuated to Mudros due to severe losses from combat, disease and harsh weather. The Division had lost two thirds of its normal establishment.
On 15 January 1916 they arrived once again in Alexandria, and engaged in the Battle of Romani, which helped to secure the safety of the Suez Canal.
In February 1917 the Battalion moved to France and landed at Marseilles. The Division engaged in various actions on the Western Front, including the third battle of Ypres (Passendale), which began on 31st July 1917.
In 1918 they took part in the Battles of Bapaume, First Battle of Arras, The Ancre, Albert, Second Battle of Bapaume, Canal du Nord, the pursuit to the Selle, and the battle of the Selle. On 11 November 1918, the Battalion ended its war at Hautmont near Mauberge.
The part John William played in the above remarkable list of actions is not known. What is known is that he received a gunshot wound in his right leg, which fractured the tibia, on 2nd May 1917. He was transferred out on the sick convoy five days later, on 7th May, on No 24 ambulance train. He had, at that time, served in the Battalion for nearly three years, of which two years and seven months were with the field force. Whether he was sufficiently healed of his wound to enable him to return to the front line is not known.
The reader who may be interested in some background about the kinds of experiences John William may have had in the 42nd division during the Great War, may like to read the material at http://www.longlongtrail.co.uk/army/order-of-battle-of-divisions/42nd-east-lancashire-division/
At Christmas 1918, John William sent a Lancashire Fusiliers card, shown below, "To Pretty Jane from her Dad", with the injunction "Keep this card as long as you live". His daughter Jane would have been nearly nine at the time. She kept the card, and, on her death, it was found and kept by her daughter Vera Lord. The card was sent from 1/5 Lan Fus B.E.F. France, so John William must still have been somewhere with his Battalion in France.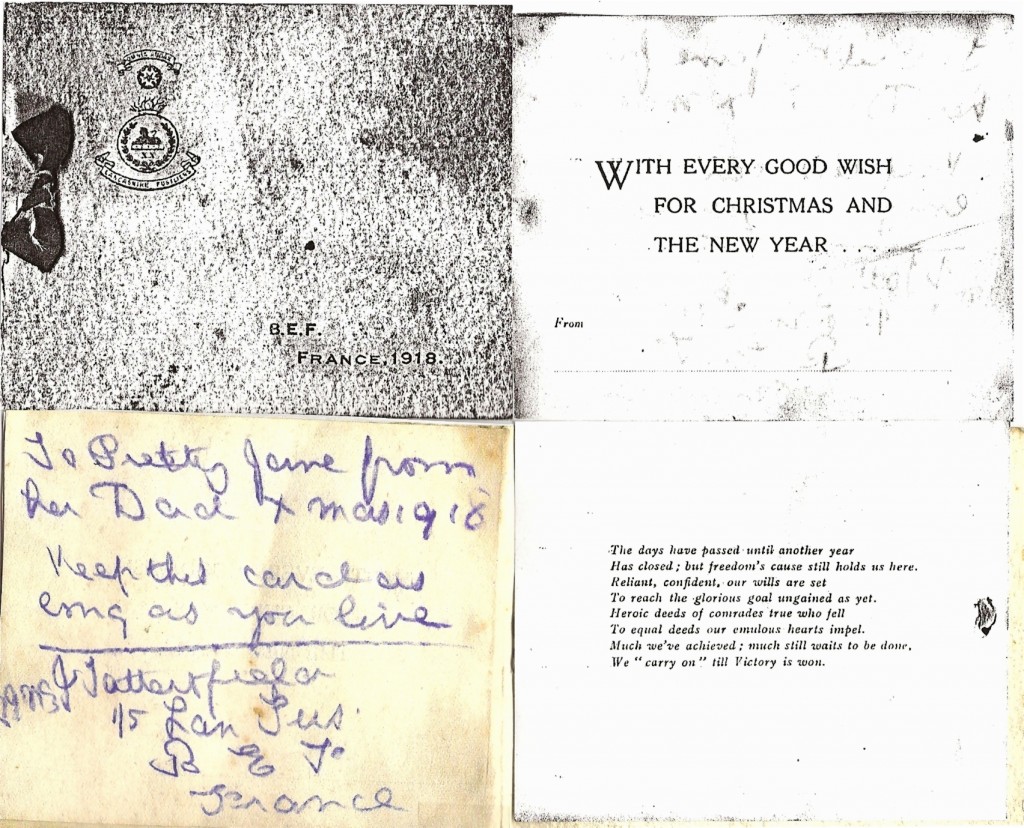 John William was discharged from the army on 23 June 1919. His surviving pension record shows that on 6 February 1920 he was awarded a pension of seven shillings per week, backdated to 24 June 1919. It was paid until 21 December 1920. It indicates that he was "admitted to Asylum" on 2 April 1921.
Sadly, he was not to live long. On 13 Aug 1921, aged 41, he died in a mental hospital at Betchworth, near Reigate, Surrey. He had been admitted there from Ewell Neurological Hospital. He died from "General Paralysis of the Insane 6 months and Dysentery 4 days". Was his "insanity" brought about by three years of intolerable danger, stress and privation?
John William died in Reigate and was buried in Bury Cemetery, Redvales, Lancashire. His Commonwealth War Graves Commission Stone, ref. E162.7552 is shown below. A sad end to a soldiering life.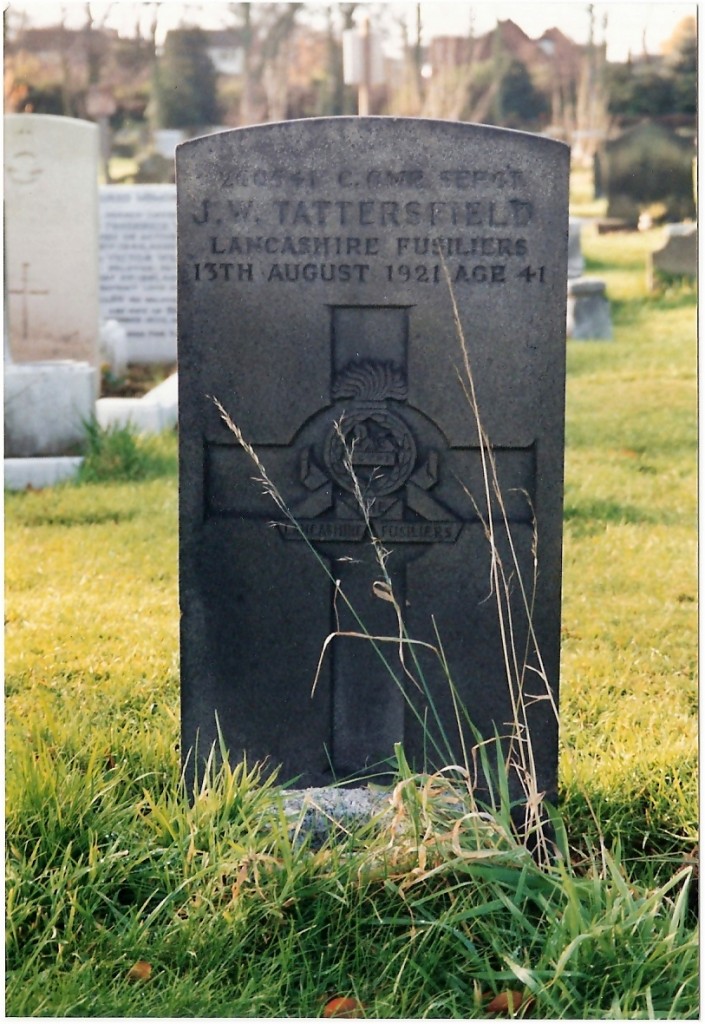 Header Image: On 1st October 1900, a train carrying 300 British troops was attacked at Pan Station, Eastern Transvaal, and 23 were killed in the ensuing battle. In 1901, British forces built several hundred blockhouses to guard the railway lines. John William Tattersfield was stationed at Pan and described spending a month in one such structure. Variously round or square, the blockhouses were constructed of stone or, later, of corrugated iron. Sandbags or locally-sourced rubble were used around the base to protect from blast. They were doubtless uncomfortable. This 1901 image shows three blockhouses that were typical of those John William would have known well. At their peak of production, the round "Rice" blockhouses could be constructed in 6 hours by 6 men for a cost of just £16.   Private Collection: G. Tattersfield.